Wild & Famous
Legendary African animals with character
There are a few things in life, that will cause your heart to skip a beat. We at Somak Luxury Travel believe that the experience of watching real wildlife up close, is one of them. In the past few years, wildlife and nature programmes have been of an exceptionally high standard and who would want to miss any of the BBC wildlife programmes, narrated by David Attenborough.
But it's still hard to beat that feeling when you actually see, feel, hear and sometimes even smell the wildlife from a safe distance. They are unforgettable experiences and even if you don't have the right camera to take that amazing shot, what you encounter will forever be imprinted in your memory.
The real Simba of the Masai Mara
If you have been on a safari with Somak Luxury Travel and have visited the Masai Mara in Kenya, then it's highly likely that you have seen the legendary male lion, Scarface. Famous for his appearance in the Big Cat Diaries and recognisable for his scarred face and blind right eye, Scarface has become far more popular than his Disney brother Simba (which means Lion in Swahili) from The Lion King. Sadly though, the King died last month (2007 – 2021).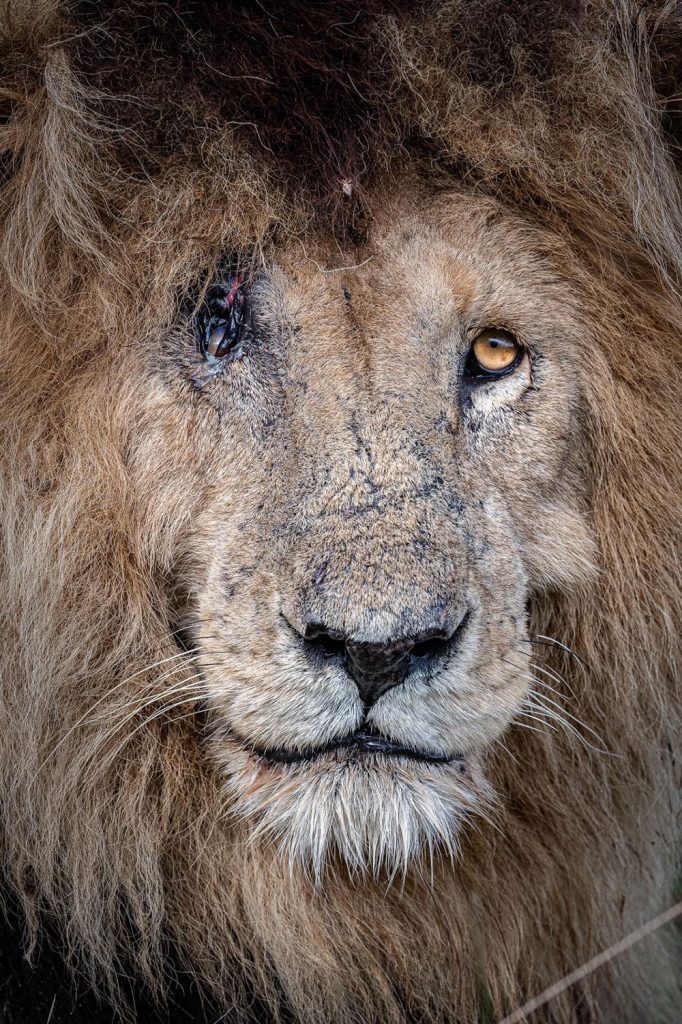 Close encounters
Together with his three brothers Morani, Sikio and Hunter, this fearless foursome, ruled the Marsh Pride. Somak's experienced driver/guide Jonah Mwakitawa has been with the company for nearly 25 years, and reckons his job is great as he can show off his country to our clients on every safari. He had encountered Scarface, together with his brother Morani, in the greater Mara, just after they had made a kill. The last time he saw the iconic lion was in 2019, just before the pandemic. He added: "Scarface was special because he was the oldest male lion in the Mara and a father to many lions."
His colleague Dedan Kingori has worked as a driver/guide for Somak for 18 years. His love for nature and animals is the main driving force to do the job, he is deeply passionate about. It comes as no surprise that the lion is also his favourite animal. He said: "I have seen Scarface on numerous occasions and one memorable thing about him is how he remained in charge of his territory despite his old age. He represents nature's Royalty at its best".
Jonah agreed and said: "All the animals in the Mara have their own territories, you'll need time and patience when you're looking for wildlife. It's not always a guarantee that you see the animal you want to see."
Dedan added: "I love all the parks equally because I believe every place has got some uniqueness. The safari experience is magical, expect the unexpected and Kenya is highly addictive, you will always be back."
Other wildlife personalities
Dedan's second favourite wild animal is Malaika the cheetah who died in 2018. Nowadays it's the Tano Bora (Tano means Five and Bora means Amazing in Kiswahili), a coalition of five cheetahs, that has captured the hearts of many wildlife fans and photographers. He admired Malaika for her ability to raise all her cubs without losing any one of them.  Whilst Jonah agreed that the Lion is definitely the King of the Jungle and that the feline's grand personality matches no other, his favourites are the leopards Bahati and Lukaku. He said: "it's their eyes, they are just so scary, but still very elegant in the way they hunt and feed."
There are of course numerous wild and famous animals each with their own legacy outside Kenya. Have a look at the Somak destinations below:
Zambia – If you love elephants, then you've probably heard of, or even had the heart thumping encounter yourself with Wonky Tusk the elephant in Zambia. Often accompanied by her 'little' one and the rest of her extended family, she used to casually stroll through the reception area of Mfuwe Lodge, located in South Lungwa National Park, in Zambia. Even though Wonky Tusk passed away a few years ago, South Luangwa NP remains one of Africa's prime locations to see elephants.
Namibia – to see cheetahs and leopards then you definitely have to stay at the Okonjima Main Camp, in the Okonjima Nature Reserve. The AfricaCat Foundation, an organisation which promotes the conservation of large carnivores in their natural habitat, but in an enclosed conservation area, has its base here and you're guaranteed to see cheetahs during one of your safari drives.
India – We hope we can soon offer trips to India again in the foreseeable future, but that shouldn't stop you from dreaming about visiting this amazing country. Have a look at our Classical India Tour, where other than taking in its rich and colourful culture, you may also be able to spot the more elusive, but equally magnificent tigers at Ranthambore National Park.
Somak Luxury Travel Holiday Tip – Flighty Felines
Our Cheetah Safari in Kenya is filled with adventure and magnificent wildlife, visiting two main national parks, Samburu and the world-famous Masai Mara. You'll spend time at the Aberdares, Ol Pejata Conservancy and the Rift Valley Lake.
We have a special offer – book now and depart next year. Departing from Heathrow 12 June 2022: 1 night Nairobi followed by 7 nights from £2330 per person, based on two sharing.
Price includes AMREF Flying Doctors.
For each person booked Somak will donate £20 to the Mara Rianda Charitable Trust.
Alternatively, you can contact Somak Reservations holidays@somak.co.uk or call 020 8423 3000 to discuss a bespoke itinerary.
Request a free
call-back now.
Contact
Somak Luxury Travel
Somak House
Harrovian Business Village
Bessborough Road
Harrow On the Hill
HA1 3EX
Tel:
+44 20 8423 3000
Fax: +44 20 8423 7700
Email:
info@somak.com