Whale Watching with Somak
Go for the Big Six!
Swap your land cruiser for a boat at the end of your Somak Luxury Travel wildlife safari in Kenya and encounter another magnificent creature – the humpback whale. Closer than you would ever imagine. It would be the icing on the cake and a welcome change, from a dry and at times dusty safari experience.
Seeing these enormous, but gentle giants in the warm and nutritious plankton rich waters of the Indian Ocean can be as overwhelming as your first encounter with another large animal – the elephant. The sea around the African continent is one of the best places to observe ocean wildlife and an attractive area for humpback whales.
The males usually move on after they have mated, leaving the mother to calve and nurse their 'little ones' in the secluded bays, which at that time of the year is also rich in food and safe from other predators like sharks and orcas. The best time to see these nursing mothers and their calves (they normally only give birth to one) is from July until September, with its peak in July and August, before they head off to Antarctica.
Whale species
There are different type of whale species, but the one you're most likely to spot along the African coast will be the Humpback Whale (16m/52ft/30 tons). They're a photographer's dream as they like to breach (jump out of the water) and rotate their bodies whilst they're halfway out of the water. A truly awesome sight.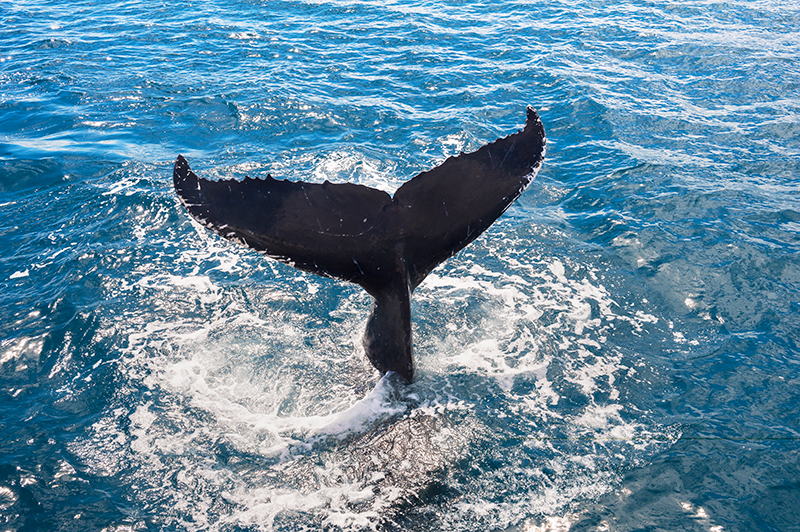 You can usually see them from afar when they're blowing (forcefully blowing air after a dive) or when they're fluking (tail straight up out of the water, preparing themselves to dive). Another whale that you may be able to spot would be the Southern Right Whale (18m/60ft/100 tons). Bigger, but curious and more likely to swim closer to the boat.
You will need to head to Sri Lanka – another Somak Luxury Travel destination – to see not only the largest whale, but also the largest animal on the planet – the Blue Whale (30m/98ft/170 tons).
Whale watching in Kenya
The relatively unknown small coastal village of Watamu, is about 15km south of Malindi. You could stay at the Diamonds Dream of Africa, which is a member of the 'Small Luxury Hotels of the World' on the northern shores of Malindi and we can organise your whale watching excursions.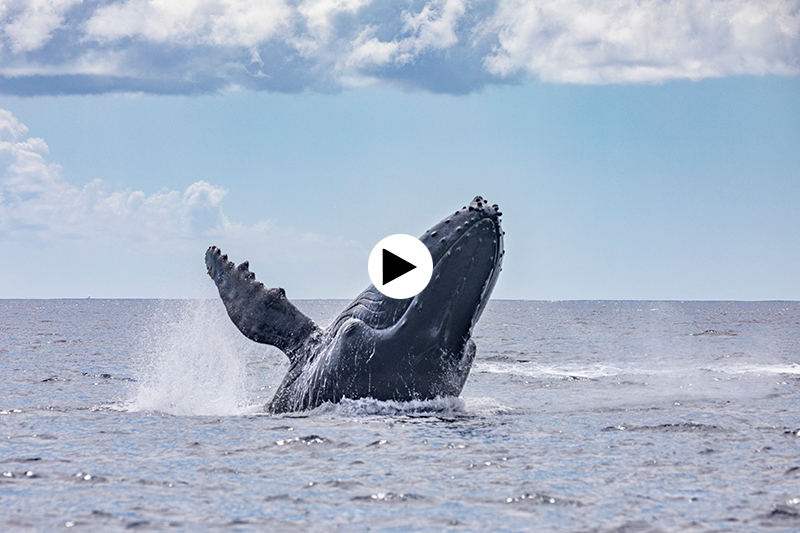 So, swap your neutral-coloured safari outfit, for something more colourful and brighter when you head to the coast, but make sure your head is covered and certainly don't forget your sun cream as the sun can still be extremely strong when you're on your whale watching excursion.
Other Somak whale watching destinations
You can see Humpback Whales (and other cetaceans) in the following Somak destinations:
* South Africa – The whole of the South African coast, with its secluded and sheltered bays is excellent to do some whale watching (humpback and southern right), although two places deserve a special mention. Hermanus, which is along the Garden Route, in particular, is a favourite for southern right whales, but you can also see humpback whales along the Elephant Coast and stay at the Ghost Mountain Inn in the KwaZulu Natal province. Best time for both destinations, July and August.
* Namibia – Walvis Bay, the name says it all as it mean 'whale' in Afrikaans, offers not only amazing bird watching opportunities, but it's also by far the best place in Namibia for sea life excursions. Here you can kayak amongst cape fur seals and dolphins or go on a cruise, and you'll be able to see a variety of whales as well. Stay at the Hansa Hotel in Swakopmund, which is north of Walvis Bay.
* Mozambique – the best time to see humpback whales in the tropical waters of Mozambique is like most destinations in July and August. The mothers and their calves start their migration to the Antarctic in October but can at times still be seen in deeper water until December. Somak Luxury Travel recommends at stay at the Anantara Bazaruto Island Resort & Spa.
* Mauritius – although the whole of the island is a prime spot for humpback whale sightings (best time August and September), the west coast in particular is home to resident sperm whales which can be seen all year round. The island has many amazing luxury hotels, like the Constance Belle Mare Plage.
* Sri Lanka – The Blue Whales  can be seen from November to April. The prime location would be  Dondra Point – the island's most southern point – or Mirissa and you can stay at the superbly located Amari Galle.
Somak Luxury Travel Holiday Tip – Two migrations, One holiday.

Why not combine two magnificent migrations in one holiday? From July to September, you can witness the greatest migration on earth, when Wildebeest and other smaller game, make their way from the Serengeti in Tanzania to the Masai Mara in Kenya. At around the same time, 800km to the east, female humpback whales will be making their way to the tropical waters off the Kenyan coast, to give birth and nurse their calves near Watamu.
Interested? Then why not have a look at our 4-day Baby Cheetah Safari, followed by a 6 nights stay in Malindi at the Diamonds Dream of Africa. We have a special offer, departing from Heathrow 09 July 2022, from £2210 per person, based on two sharing.
Price includes AMREF Flying Doctors and a contribution to the Mara Rianda Charitable Trust.
Alternatively, you can contact Somak Reservations holidays@somak.co.uk or call 020 8423 3000 to discuss a bespoke itinerary.
Request a free
call-back now.
Contact
Somak Luxury Travel
Somak House
Harrovian Business Village
Bessborough Road
Harrow On the Hill
HA1 3EX
Tel:
+44 20 8423 3000
Fax: +44 20 8423 7700
Email:
info@somak.com