Unparalleled: Dee's Safari in Kenya
Somak Luxury Travel staffer, and Commercial Manager, Dee Persaud, has over 2 decades of experience in the travel industry but had never been to Kenya until she visited early in 2023.
"Having worked in the Middle East and the Indian Ocean, I finally got to fulfil a long-standing dream: visiting Kenya," said Dee. "It was an absolute bucket list experience."
"From the moment I set foot on Kenyan soil until the day I departed, every moment was filled with breathtaking beauty, lasting memories, and an unparalleled life experience."
"The remarkable wildlife, hospitable people, vibrant culture, and charming villages and towns of Kenya left an indelible mark on me," she said. "This being my first safari experience, each day brought forth a new adventure, making the trip even more exhilarating."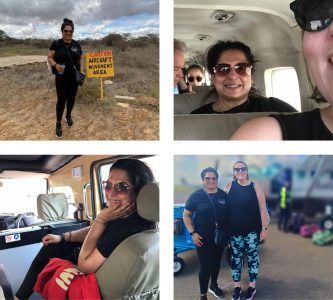 Even the drive from the airport to Nairobi struck Dee's interest. "The sight of Nairobi National Park caught my attention. Although we didn't spot any animals besides a few elephant statues." However, it was the signs of a bustling African city that caught her eye.
"Nairobi's cityscape showcased a diverse mix of structures ranging from shanty towns to towering office buildings. The early morning hours in the city were bustling with activity, market stallholders were setting up their stalls, pedestrians were commuting to work, and buses were brimming with passengers."
Dee and her party visited the EKA Hotel in Nairobi where they were treated to breakfast and a cup of authentic Kenyan tea before heading off to catch a domestic flight to Loisaba on a small 12-seater aircraft. This flight took a mere hour.
Cacti Eating Elephant
At Loisaba Dee and her fellow travellers met their driver and guide, Dan.
"As we embarked on our journey it didn't take long before we witnessed a surreal fight between buffaloes and zebras. It was a remarkable moment considering that just 24 hours earlier I had been stuck in traffic on the M25. Now I found myself immersed in breathtaking landscapes and encountering one of the iconic "Big 5″ animals."
Dee and her group spent their first night in Africa in Elwana Loisaba Tented Camp. "The accommodations themselves were exquisite. I appreciated the thoughtful touches like finding a hot water bottle in my bed to keep me warm as the temperature dropped," said Dee. After lunch, Dee and her group went to see Loisaba Star Beds.
"The drive between the two properties took less than an hour and provided a wonderful opportunity to spot more wildlife. Eagerly searching for my first lion sighting I was thrilled to have my first Elephant encounter. It was a magnificent sight – a large bull elephant indulging in cactus plants!"
Dee said she was very impressed by the facilities at Loisaba Star Beds which provides guests the chance to sleep under the stars. "The star beds were simply incredible," said Dee explaining that the beds roll out until they are on a terrace perched on the edge of the escarpment with breathtaking views of the conservancy.
Thrilling Game Drive
The next day, after an early breakfast Dee and her group went on their first game drive, an experience she described as "thrilling!"
"We were heading towards Samburu Game Reserve, eager to see more animals and observe them up close. One of the most fascinating sightings was the graceful and towering giraffes, truly elegant creatures!"
The group also visited some other lodges and camps including Ashnil Samburu and Sarova Shaba. During the drive between the lodges the party was treated to more sightings of elephants, Grevy's zebra, reticulated giraffes, a variety of birds and antelopes.
"Our next stay was at the recently opened Surana Buffalo Springs," she said. "We received a warm welcome from the staff. The view from the lodges was truly incredible – serene, tranquil and overlooking the river and the conservancy. The rooms were spacious and generously sized, and each lodge has a private plunge pool," said Dee.
An added bonus for Dee was that they arrived just in time to participate in planting one of the first trees at the
resort. "Although I dropped the plant it was still an amazing and memorable moment," said Dee sheepishly. After their afternoon's exertions, the party enjoyed sundowners at the rooftop bar, from which they witnessed a breathtaking sunset over the landscape before enjoying dinner.
"One thing I learned that evening was that camps are either fenced or unfenced. Initially, this made me slightly nervous as my imagination started to run wild," she admitted. However, once she was in her tent overlooking the river where hippos roamed, exhaustion quickly overtook fear. Dee fell into a peaceful sleep.
Cheetah Family
On the third day of Dee's safari visited Saruni Samburu, Samburu Intrepids and Elephant Bedroom Camp.  While travelling between them, saw a wide array of wildlife.
"Along the way to our first stop we were fortunate to spot a mother cheetah and her adorable cubs nestled beneath a bush," said Dee. "It was a truly remarkable moment as she seemed at ease with our presence and the jeep."
While the animals were exciting, for Dee, the scenery didn't go unnoticed. "The landscape's vibrant colours were a sight to behold," said Dee. However, the day's surprises were far from over. "As we continued our journey to Elephant Bedroom Camp, we were treated to another magical sighting," said Dee, "three cheetahs gracefully walking across the landscape, seemingly unperturbed by our presence!"
But there was more: "Further along, we encountered a family of elephants, including a sweet little calf beside its enormous parents!"
After lunch overlooking the river, they were taken on an afternoon game drive. "We had the pleasure of witnessing many animals, including zebras, a cheetah mother and her family, two relaxing lionesses, and various bird species. These were the highlights of my time there," said Dee.
"I must commend my guide and driver, Dan, for his exceptional knowledge of wildlife. He went above and beyond to ensure I didn't miss out on any remarkable sightings during my short trip. His expertise in birdwatching was especially impressive.  He spotted an array of bird species along the way. His passion and accommodating nature ensured an unforgettable experience."
Dee Left Breathless
On the fourth day of their trip, Dee and her group hopped an approximately 90-minute-long flight into the Maasai Mara, the largest game reserve in Kenya. Along with various conservancies including Mara Triangle, Koiyaki, Lemek, Ol Chorro, Oiowua, Mara North, Olkiyei, Saina, Maji Moto, Naikara, Ol Derkesi, Kerinkani, Oloirien and Kimintet, covers 300 000 hectares!
After her flight, Dee met her next driver guide, Jonah at Olkiombo Airstrip.  The group's first stops were the Mara Intrepids and Mara Explorer, the first overlooking and the second next to the Talek River. Thereafter they stopped for lunch as Ashnil Mara, before driving on to their next overnight stop, Elwana Sand River, enjoying a fantastic mini-game-drive along the way.
"That particular day left me breathless," said Dee. "From witnessing about 40 hippos between the first three camps to encountering a pride of lions and their cubs up close, the experience was awe-inspiring. A male lion even came and lay right next to our jeep for a good 15 minutes which left me both scared and exhilarated! We encountered herds of elephants, graceful giraffes, zebras, numerous bird species, buffalos, and many other animals. I had to keep reminding myself that it was real!"
Reflecting on her trip Dee said she was still in two minds about the lack of fences at some of the camps. "As we stayed overnight at camps, the lack of fences made me wonder which animals might visit us each night. I bombarded the guide and rangers with countless questions, perhaps making them think I was crazy. However, they were all relaxed, assuring me that the animals are more afraid of us."
"Sand River was a beautiful, elegant and refined camp providing a true "Out of Africa" experience. The staff were amazing and we enjoyed a wonderful dinner and unforgettable sundowners by the fire where we shared our experiences with other guests and created lasting memories," said Dee.
Marvellous Maasai Mara
The following day the group set out through the Mara heading towards Angama Mara, located close to the border with Tanzania. Dee said she was very excited about what the day held in store. "We had a light breakfast before setting off and my eyes were wide open, eager to spot as many animals as possible," she said. She would not be waiting long.
"Within just a few miles, we encountered a herd of over 20 elephants, followed by a single hippo. It was the first hippo we had seen on land, and we watched it for a while until it opened its large mouth, a warning from the hippo to move out of its way! We continued our drive, spotting antelopes and many more fascinating birds and wildlife along the way."
"As we approached Angama Mara, the scenery became even more breathtaking. The camp is situated high above the Great Rift Valley, offering stunning views of the Masai Mara. It felt like a surreal experience, driving through a landscape that resembled a scene from a movie. On each side of the road, zebras and giraffes gracefully roamed peacefully grazing on the trees and grass. It felt as though they were there just for our arrival, though I knew it was just a dream-like coincidence," she said.
The busy day did have one significant event. While they were having lunch at the next camp they would be staying at, Governor's Main, the group met up with a massive elephant named Blossom with only one tusk who decided to take a walk through the camp. "We moved out of the way and watched in awe as she passed through," said Dee, adding: "One of the waiters reminded us that we were guests in the animal's land, which rang true at that moment."
Mara Rianda Charity Project
During the afternoon the group visited the Mara Rianda, a Charity Project which Somak Luxury Travel supports. "The project includes a school and a hospital," she explained. "The school is a boarding school for boys and girls, mainly from the local communities."
The next day the groups visited more camps including Governor's Ilmoran Luxury Camp which was built in 1972, making it one of the first luxury tented camps in Kenya. "It offered stunning views of the Mara River where we could observe hippos and crocodiles from the verandahs," said Dee. "During breakfast, I had the surreal experience of seeing a giraffe just a few yards away enjoying its own breakfast," said Dee. "It was a remarkable sight to start the day."
They visited Neptune Mara Rianta a camp with 20 luxury tents overlooking the Mara River before heading to Kicheche Bush Lodge. While on their way they saw their first herd of wildebeests which Dee explained ticked off the last of the big animals she had been expecting to see. "The only ones remaining were the leopard and rhino, which are rare to spot depending on the season and location within the reserve," Dee explained.
Dee's Last Game Drive
After lunch, the group was taken on their final game drive on which Dee hoped she would be able to spot a leopard. "Our driver, George, was a Maasai and had worked at the camp for over 20 years. We learned that after completing 10 years of service, staff members are rewarded with a cow, which holds great value in their culture," she explained.
"George's knowledge of the conservancy was exceptional and within minutes we spotted a Mara ostrich and zebras. Further down we encountered an oryx before coming across a lioness calling for her cubs. Although we couldn't see them initially, after a short while two cubs, both girls, appeared alongside their mother. There was another male cub in the distance, seemingly disinterested. It was an awe-inspiring sight and the excitement was palpable," said Dee. Shortly after the sighting of the mum and cubs, Dee said they encountered a pride of lions comprising a male, three females and their cubs perched on a grassy hill.
Sadly, they didn't see any leopards though. "George drove us into the trees near the river, typical hiding spots for leopards, but unfortunately we didn't succeed in spotting one," said Dee. However, the group did come across a few more giraffes as they drove out to watch the sunset.
Balloon Safari
On the final day of Dee's safari, she and her group all work up at 4.30am to head out for a hot-air balloon safari. "I must admit, I am afraid of heights," laughed Dee. "I needed to be brave as this was our last day before heading home."
She said she boarded the balloon and felt it glide away along with 15 other passengers with her eyes tightly shut. "Surprisingly we weren't too high up and I cautiously opened my eyes to witness the breathtaking sunrise and the animals below," she said, adding that the animals appeared like tiny ants from above. "Overcoming my fear, I began to enjoy the experience, though I was still holding tightly onto one of the posts. We saw herds of elephants, zebras, a couple of giraffes and another hot air balloon. In the distance, we could see the border of Tanzania and the mountains."
Once back on the ground, Dee and her fellow travellers were treated to a Bush Breakfast and, as if to bid the group farewell, a pride of lions made an appearance along the way. "It was a spectacular sight and a fitting end to our safari adventure," said Dee who added that the delicious breakfast in the bush included a variety of dishes including some local favourites. "It was a memorable way to conclude our safari experience, surrounded by the beauty of nature and the wildlife of Mara."
Has Dee's story inspired you to go on safari yourself?  Check out our Inspiration pages for more stories about people and places to visit.
Keen to visit some of the areas of Kenya you have just read about? Visit our Destination pages for the beautiful country of Kenya and contact one of our travel experts to find out about booking your own adventure.
Request a free
call-back now.
Contact
Somak Luxury Travel
Somak House
Harrovian Business Village
Bessborough Road
Harrow On the Hill
HA1 3EX
Tel:
+44 20 8423 3000
Fax: +44 20 8423 7700
Email:
info@somak.com