Where to go in February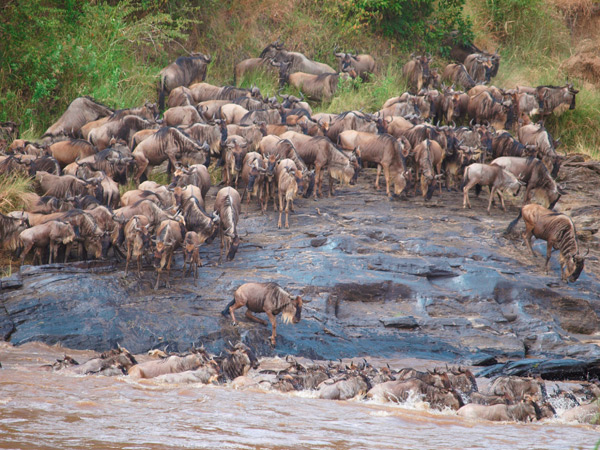 If you're taking a safari in Africa in February, you'll need to pick your destination carefully. For some countries such as Kenya, Uganda and Ethiopia, February is a great time of year to visit thanks to the dry weather and an abundance of wildlife spotting opportunities.
Other countries such as Botswana, Namibia and Zambia are extremely wet in February, making travel and animal spotting more difficult.
Where to go in February
Kenya
Kenya is warm and dry in February making it one of the most popular times of the year to visit. There's very little chance of seeing any rain with an average of 45 mm across 5-6 days throughout the whole month. It is one of the hottest months with temperatures regularly reaching 28°C – a great time for a Kenya safari.
Tanzania
February is the second month to provide a short break from the rains during the wet season in Tanzania. The wet season runs from March until May but there is a short, dry break between January and February providing a welcome and dry relief. Temperatures average between 20-31°C but it's usually on the warm side with a little humidity. There's an average of 51 mm of rain and 8 hours of sunlight – a good time for a Tanzania safari.
South Africa
It is coming towards the end of the summer in South Africa in February. Temperatures are around 24°C with higher temperatures in Durban. Cape Town sees very little to no rainfall but you are likely to experience afternoon showers in Johannesburg and in many of the parks.  The showers are predictable so they're unlikely to affect your trip – a good time for a holiday in South Africa.
Botswana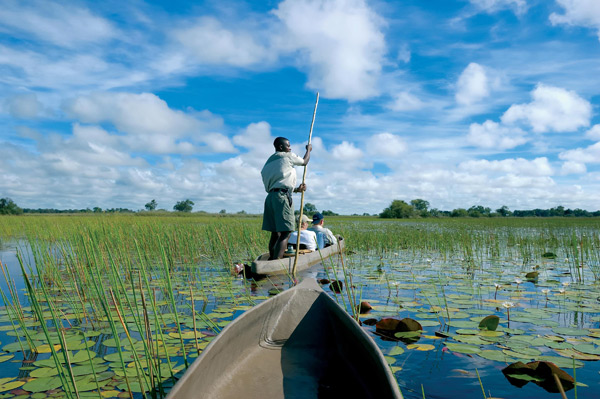 February is a very wet month for Botswana with an average of 76 mm of rain all month. This may not seem like a lot, but for such a dry country this rainfall can have a huge impact on roads and the landscape. Temperatures are hot and humid and can regularly reach 30°C.
Zambia
February is the second wettest month in Zambia with 203 mm of rain. This wet season is warm and humid with temperatures averaging 21°C. It's the low season for tourism as many camps are closed due to the weather and any unsurfaced roads can be difficult to travel along.
Namibia
February is a very wet month in Namibia with around 76 mm of rain. The rain normally falls in the late afternoon and the predictable showers mean the rain won't spoil your trip. Temperatures are hot with an average of 28°C so it can become very humid, particularly before the daily rains.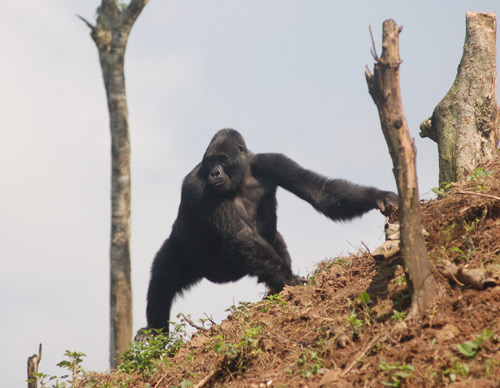 Uganda
February is a fantastic month to visit Uganda as it's one of the driest months of the year. There is an average of 80 mm of rain throughout the month. The dry conditions make it easier to spot animals as they congregate in smaller areas. It also makes trekking through forests easier if you're on the lookout for gorillas. A great to for gorilla trekking in Uganda.
Rwanda
February can be an unpredictable month in Rwanda. This is the end of a short dry season and there is an average of 110 mm of rain. Temperatures are pleasant and average 19°C but you can expect cloudy skies, particularly as the rain begins to increase at the end of the month.
Mozambique
February is the second wettest month and the hottest month in Mozambique. Rainfall averages 134 mm throughout the month and temperatures average 26°C. Humidity is very high but this is one of the quietest months for visitors.

Ethiopia
February is a great month to visit Ethiopia thanks to the warm, dry weather. Temperatures average 24°C and rainfall 35 mm all month depending on the area you are in. This is one of the busiest times to visit, particularly for safaris and wildlife spotting.
What's On
Kiliman Adventure Challenge
Kiliman is one of the toughest adventure challenges in the world. It takes place in February and attracts extreme adventurers from around the globe. It includes a 6-day hike to the summit of Kilimanjaro (5,895m), a mountain bike race around Kilimanjaro (190 km) and then a Kilimanjaro Marathon (42.2 km). This is not for the faint hearted!
Kiteboarding Competition, Cape Town
Cape Town makes the most of the windy weather in late January and early February with the Red Bull King of the Air Kiteboarding Competition. The world's best kiteboarders take to the waters and show off their skills with loops, shredding and massive airs. Spectators head to Eden on the Bay and the surrounding beach for the best views.
World Wetlands Day, Botswana
World Wetlands Day is celebrated around the globe, particularly in Africa, and there will be special ceremonies, marches and tree planting events in Botswana. The aim of the day is to educate people about the importance of our wetlands  and ensure they are put to good use and preserved both now and in the future.
Wildlife Events
Turtle Hatching, South Africa
Leatherback and Loggerhead Turtles can be seen returning to their birthplace to lay their eggs in February. They lay their eggs at night and slowly make their way back into the sea. You can watch them as they emerge from the sea, dig a suitable nest and then lay all of their eggs;  it's a magical thing to witness.
Wildebeest Calving, the Serengeti
Mid-February sees an extraordinary sight in the Serengeti as over 500,000 wildebeest calves are born in just one week! Around one million wildebeest gather on the short grass plains making this one of the most amazing wildlife spectacles in the world. The huge wildebeest congregation attracts many migrating predators such as lions, leopards, cheetahs and hyenas.
Gorilla Spotting, Rwanda and Uganda
February can be a good time to go gorilla spotting in Rwanda and Uganda because it's one of the drier times of year. Drier paths make the gorillas easier to track and walking through the dense forest is much simpler.
Ready to go?
Somak Holidays are an award-winning tour operator with almost 50 years' experience in organising luxury safari holidays. Our team are passionate about African travel and enjoy creating holidays to Kenya, Tanzania, South Africa, Botswana, Zambia, Namibia, Uganda, Rwanda, Mozambique and Ethiopia. So if you are still undecided where to go in February, why not give us a call.
Speak to our experts 020 8423 3000
Request a free
call-back now.
Contact
Somak Luxury Travel
Somak House
Harrovian Business Village
Bessborough Road
Harrow On the Hill
HA1 3EX
Tel:
+44 20 8423 3000
Fax: +44 20 8423 7700
Email:
info@somak.com