Useful Swahili words and phrases for a Safari in East Africa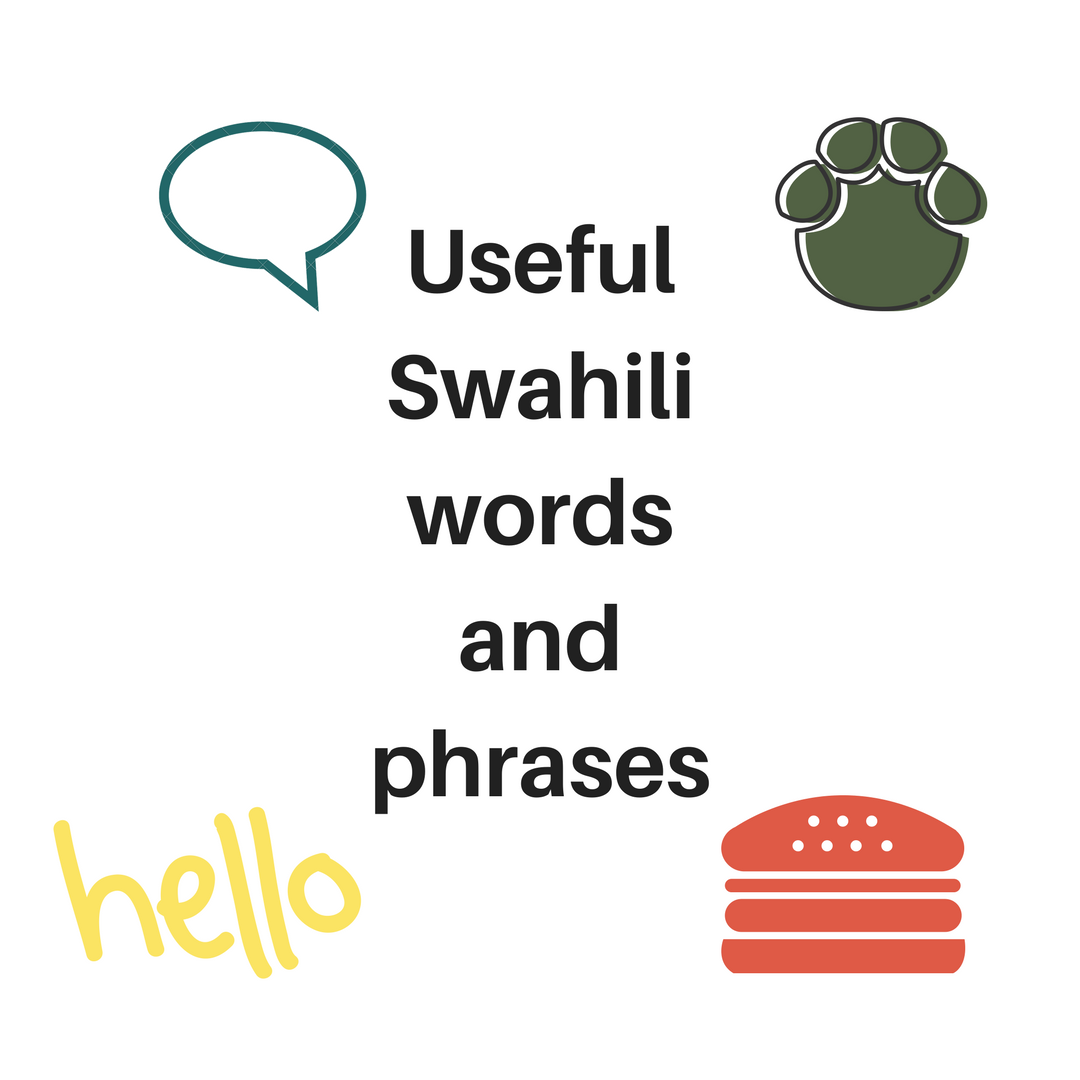 We have compiled a handy list of the most common and useful phrases in case you need to use them whilst on your safari in East Africa.
Common greetings
Jambo? –  How are you?
Sijambo –  I am fine
Habari? – How are you?
Nzuri  – Fine
Kwaheri – Goodbye
Tutaonana baadaye (often shortened to baadaye) – See you later
For more casual interactions or to communicate in local 'slang' you can use the following:
Mambo – What's up?
Sema – Speak
Poa – Cool
Other common courtesies
Thank you – Asante
Thank you – Asanteni (to more than one person)
No thank you – Hapana asante
Thank you very much – Asante sana
Please – Tafadhali
Sorry – Pole
Very Sorry – Pole sana
No worries – Hakuna matata
No problem – Hamna shida
Welcome – Karibu
Welcome – Karibuni (to more than one person )
Excuse me – Samahani
What is your name? – Jina lako nani?
My name is XX – Jina langu ni XX
Nice to meet you – Ninafuraha kukutana nawe
Ok – Sawa
Yes – Ndiyo
No – Hapana
I understand – Naelewa
I don't understand – Sielewi
I like it – Ninaipenda
I don't like it – Siipendi
Animals
Lion – Simba
Elephant – Tembo
Rhino – Kifaro
Buffalo – Nyati
Leopard – Chui
Giraffe – Twiga
Hippo – Kiboko
Antelope – Swala
Bird – Ndege
Cheetah – Duma
Bug – Dudu
Pronouns
Me – Mimi
You – Wewe
Him/Her – Yeye
Mine – Yangu
Yours – Yako
His/hers – Yake
Ours – Yetu
Questions
What? – Nini?
Where? – Wapi?
Which? – Ipi? (or Gani?)
Who? – Nani?
Descriptive words
Big – Kubwa
Small – Kidogo
Short – Fupi
Long – Ndefu
Color – Rangi
Black – Nyeusi
Red – Nyekundu
Blue – Buluu
White – Nyeupe
Green – Kijani
Key Shopping words
Store/shop – Duka
Price – Bei
Money – Pesa
Cash – Pesa taslimu
How much? – Pesa ngapi?
It is cheap – Ni bei rahisi
It is expensive – Ni bei ghali
Do you give discounts? – Je, Unapunguza bei?
How do I pay? – Ninalipaje?
I have a credit/debit card – Nina kadi
Common words used when Eating out
Eat – Kula
Food – Chakula
Menu – Menyu
Bill – Bili
Hot – Moto
Cold – Baridi
Drinks – Vinywaji
Cold drink – Kinywaji baridi
Fruit juice – Maji ya matunda
Beer – Bia
Cold beer – Bia baridi
Tea – Chai
Coffee – Kahawa
Soup – Supu
Chicken – Kuku
Meat – Nyama
Fish – Samaki
Rice – Wali
Vegetables – Mboga
Drinking water – Maji ya kunywa
I am vegetarian – Sili nyama
It is delicious – Ni tamu sana.
Dietary requirements
Nina mzio wa – I'm allergic to:
Mazao ya maziwa – dairy produce
mayai – eggs
kokwa – nuts
karanga – peanuts
vyakula kutoka baharini – seafood
kombe – shellfish
We hope you find this useful.
If you are thinking of going on a safari, we would love to work with you to plan the holiday of a lifetime. For more information on how our safari experts can help you, call Somak Holidays today on 020 8423 3000, or visit our website here:
Request a free
call-back now.
Contact
Somak Luxury Travel
Somak House
Harrovian Business Village
Bessborough Road
Harrow On the Hill
HA1 3EX
Tel:
+44 20 8423 3000
Fax: +44 20 8423 7700
Email:
info@somak.com