Ultimate Wildlife Watching in Uganda
By James Hill
Uganda – so much more than I imagined
I have always enjoyed flying with Kenya Airways and this time it was no different, the 2-hour connection from Nairobi to Entebbe in Uganda was perfect, giving me plenty of time to watch the end of the Tottenham vs Leicester match before boarding my flight.
Throughout my stay in Uganda I visited hotels and lodges; due to their privacy and laid back feel the lodges were the clear winner for me. Boma Guest House fell into this category and is in a great location to chill out before you start your Safari.
On my 1st evening in Uganda I met the group I would be travelling with for the next 8 days. We met over Uganda's local delicacies; Tilapia – which is a fish caught locally in Lake Victoria (best grilled) and a glass of Nile – the local beer which is brewed at the source of the Nile (best served cold) both were delicious.
The next day we travelled to Murchison Falls National Park, roughly a 6 ½ hour drive with a stop of at Ziwa Rhino Sanctuary. This gave me a chance to find out about the great conservation work they are doing at the sanctuary – managing and repopulating the southern white rhinos that have been reintroduced to Uganda is no easy task but the sanctuary was seeing the fruits of its labour. One of the sanctuary's many activities is to trek with the rhinos, the only place in Uganda where you can see the rhinos whilst on foot! This was exciting if not a little unnerving. It didn't take us long to see the success we had heard so much about, finding a calf after only walking for 15 minutes was incredible, we spent almost double that watching the calf re-adjusting himself next to his mother. We thought this was a close experience until we ran into a group of 4 females, one of whom decided to test our confidence by walking towards us. Where my confidence failed our guide's prevailed and he calmly talked the group back and out of the route of the female.
Following such an exciting trek, I was quite content sitting in the 4×4 to get to Murchison Falls national park, we were even treated to an en route game drive and a ferry crossing over the River Nile. I was very impressed when I saw Paraa Safari Lodge overlooking the river.
That night we were treated to traditional African entertainment and an all you can eat buffet.
Day 3  – I am about to have my first official game drive in Uganda, not having heard too much about Murchison Falls national park before I didn't know what to expect but I certainly wasn't disappointed.
We left for our safari at 6:30am to try to catch the big cats returning from a hunt, we started in open savannah which then turned into forest, the forest then turned into the delta. Although we didn't see any successful hunts we felt we were extremely lucky with what we did see. Even managing to spot not just one but two leopards! Another unlikely spot was a python hidden in the bushes digesting a bush buck.
Our next activity was a 45-minute boat ride up the River Nile to Murchison Falls, the waterfall the park derives its name from.  The cruise was relaxing, the banks of the river were filled with king fishers and other birds, game was viewed collecting water before heading back into the bushes. At the end of the boat cruise we arrived at Murchison Falls, this is where the Nile squeezes through a 7 metre gap crashing on the rocks. The Falls are impressive and appear to have created their own lagoon but not one that you want to swim in due to the huge Nile crocodiles.
Day 4 – Today we have our longest transfer, from Murchison Falls national park to Fort Portal, situated next to Kibale national park. The journey took 8½ hours, a highway is currently being built with expected completion in the next 2 years, shortening travel time to 5½ hours, however, chartered flights are available for those who do not want to drive the long distance.
Sometime later we arrived at Kyaninga Lodge, nestled on the edge of an extinct volcanic crater lake at the foot of the Rwenzori Mountains where the Great Rift Valley meets the mighty Congo basin. A perfect place to swim, stretch your limbs and wake your senses after the long journey, alternatively, you could enjoy a guided nature walk.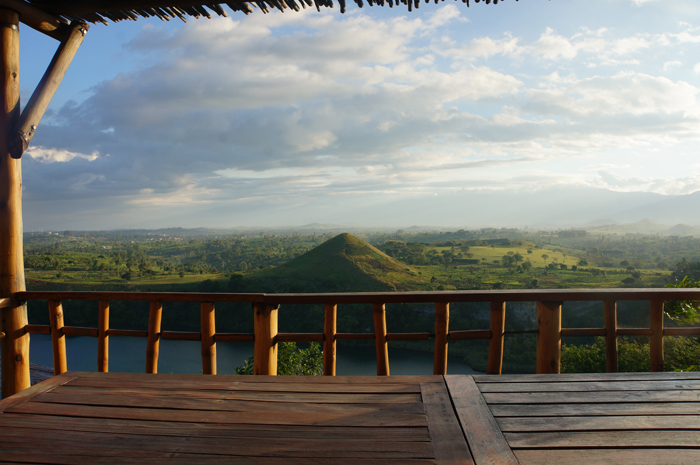 Day 5 – With Kyaninga Lodge being so close to Kibale Forest – which has the highest bio diversity and density of primates in Africa, totalling 13 species. We went trekking with our closest cousins who share 98% of our DNA, chimpanzees, although it was more like chasing than trekking as the chimps moved quickly through the forest foraging for food. They weren't concerned about our presence and continued with their daily activities which made for fascinating observation.
We spent approximately an hour following the chimps through Kibale Forest, they continued to move in and out of their territories searching for food. Watching the primates thrive in their natural habitat I was surprised to see how human-like they are. These thoughts were corroborated by our guide Bosco when he started to explain the culture and family life of the community of chimps we were following.
My next stop was Queen Elizabeth National Park, famed for its tree-climbing lions; we went to the park to catch our boat ride along the Kazinga channel that connects Lake George and Lake Edward. On the escarpment of the river sat a fishing village, their boats surrounded by birds, I also had great views of animals sunbathing on the river bed.

In the evening we arrived at Buhoma Lodge which is situated next to a small village that had a preacher speaking that night who had created a buzzing atmosphere. Buhoma Lodge was an old coffee factory before it was converted although the lodge still does make a great cup of coffee.
Day 6, the day we crossed the Equator. Today we headed back into the Ishasha sector of the park to find the tree-climbing lions. Leaving the lodge we could see Congo's Blue Mountains which definitely isn't a bad view to wake up to. Due to the long grass in the sector the lions have adapted to climbing trees, this made them hard to spot but after a lot of perseverance we managed to find them in the distance, the wait was worth it, seeing 3 or 4 lions all sprawled out along the same branch in an acacia tree.
Having checked this off my list we could head to Bwindi. The drive didn't take long (3 hours now seems like a short journey) we stopped to get a picture at the Equator before continuing to our final destination. Buhoma Lodge is one of the closer properties to the gorilla trekking and if you're lucky like us you may spot a lone large male black back gorilla that has left his family and now stays close to the lodge.
Day 7 – Today was the highlight of the trip for me, Gorilla Trekking. During our consultation before trekking we were judged on our fitness, me and my group had opted to go for the gorilla family furthest away, this is so we could enjoy being in the impenetrable forest for as long as possible before heading back to our city jobs next week. For the less active, shorter treks are available and you can have your own personal porter on hand to assist, if you really do require the extra help more than one porter can be hired.

The Impenetrable Forest in the Virunga area is where we trekked, the gorillas had moved further down the mountain meaning it took only 1½ hours to reach them although the heat did make it feel longer.  When we finally arrived at the other side of the valley our trackers were their waiting, once again we were run through the rules of being in such close proximity to the gorillas – safety for us and the gorillas is the guide's top priority.  The first thing I saw was a giant silverback gorilla, laying on the ground facing us, we gradually got to see more and more of the family. The younger members were fairly active playing with one another while the older members of the family were much more graceful.
After the allocated hour we had with the gorillas, it was safe to say the whole group was feeling elated, I would even say it is the best wildlife experience I've ever had.
Day 8 – This morning was bitter sweet, we were all so high from doing the gorilla trek the day before but sad to be leaving such a great country. Before our light aircraft flight back to Entebbe we had some time spare to do a couple of things. We visited the pigmies, who had recently been relocated due to gorilla conservation; they openly welcomed us and showcased the skills that kept them alive in the forest before inviting us to sing and dance with them, it was interesting to see how they lived so differently to us in the West, but also a pleasure to meet them.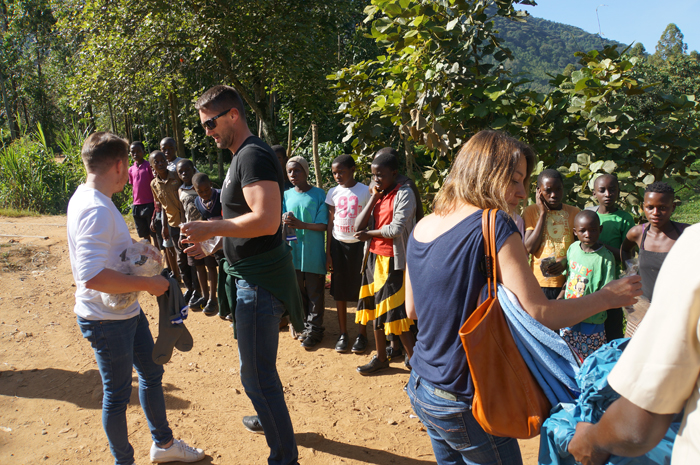 Our next excursion, that soon turned out to be one of the trip's highlights, was simply handing out shoes to young children who didn't have any of their own, my only regret was their wasn't enough shoes for everyone, even then they were all still so grateful and definitely something I would recommend doing on a visit to Uganda.
Request a free
call-back now.
Contact
Somak Luxury Travel
Somak House
Harrovian Business Village
Bessborough Road
Harrow On the Hill
HA1 3EX
Tel:
+44 20 8423 3000
Fax: +44 20 8423 7700
Email:
info@somak.com