Top places to stay in Zimbabwe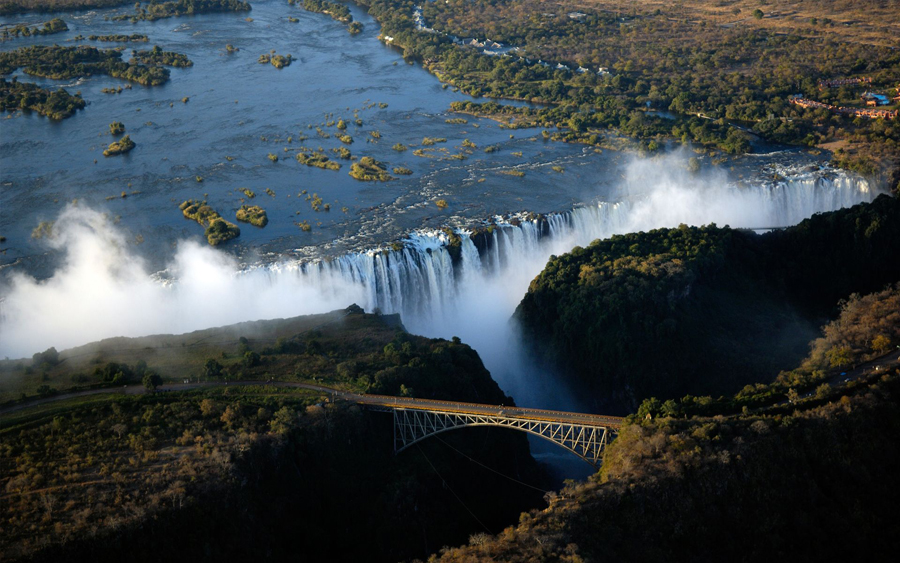 Why are more and more people wanting to explore this vast and captivating country? It's simple – Zimbabwe is full of gems that are waiting to be explored, from sprawling Hwange National Park, which hosts some of the largest populations of elephants in the world, to the wild and beautiful Mana Pools National Park. Oh, and it's the best country from which to experience the mighty Victoria Falls too!
Light and airy with African inspired interiors and magnificent views of the watering hole – Camp Hwange offers a truly luxurious and wildlife-filled stay. The camp is located just 3 hours from Victoria Falls and is situated in a private concession inside the Hwange National Park, in the Sinamatella area which is known for its rocky, hilly country with thick teak woodland. Its locality, within the private concession, means that the camp can offer fascinating night drives and walking safaris – a real treat for wildlife lovers. All safaris are lead by the camp's guides, who are amongst the best in Africa, which is truly invaluable when tracking rare species such as rhino.
If you're looking for a calming and elegant camp with just a few exclusive rooms, then Camp Amalinda could be just for you. Tucked away in an ancient bushman's shelter, this camp exudes a spirituality and calmness which makes for a truly enlightening stay. The shelter is a UNESCO World Heritage Site known as Matobo Hills, and it's this ancient and strikingly beautiful setting, combined with interiors that will make you swoon, which will make your stay unforgettable. Here, you can track rhinos, enjoy a relaxing full body massage and learn about the ancient history and cultures that surround you. The rooms are pretty special; they are set into the imposing boulders and feature luxury interiors, outside bathtubs and lovely thatched roofs – a perfect escape for honeymooners.
Location, location, location! This camp is so perfectly positioned that you can view some of Hwange's most prolific wildlife species from the comfort of your own room. In fact, all of the seven rooms boast wildlife-filled views of the private and extremely active waterhole. Guests staying at Ivory Lodge are very likely to see big cats, plains game, elephants, buffalos and much more in and around the camp. For those who can draw themselves away from the view from their private balcony; game drives, village tours and walking safaris are just some of the activities to get involved in.
Outdoor baths, open mess areas and camp fires under the stars; Kanga Camp is the place where you can really get back to nature. This camp offers an authentic safari experience but with all the luxury amenities, however, it's the remote location in the World Heritage site in the Mana Pools National Park, combined with the small and intimate camp which makes it a perfect choice for those looking for a true 'Out of Africa' experience. The camp only accommodates 12 people at any one time, which means that every guest is made to feel completely spoilt during their stay.
Step this way if you're looking for an exclusive stay within easy distance of the mighty Victoria Falls. Elephant Camp is situated in a private concession within the Victoria Falls National Park and offers just 9 luxury tented suites and fantastic game viewing. This camp certainly has the wow factor from the moment you walk in, and it's the stunning suites with private pools, large balconies and breathtaking views which make this camp a perfect romantic getaway.
Ready to go?
Speak to the experts: Call 020 8423 3000
Request a free
call-back now.
Contact
Somak Luxury Travel
Somak House
Harrovian Business Village
Bessborough Road
Harrow On the Hill
HA1 3EX
Tel:
+44 20 8423 3000
Fax: +44 20 8423 7700
Email:
info@somak.com