Spotted on Safari This Week: Martin's Captures from a Kili Safari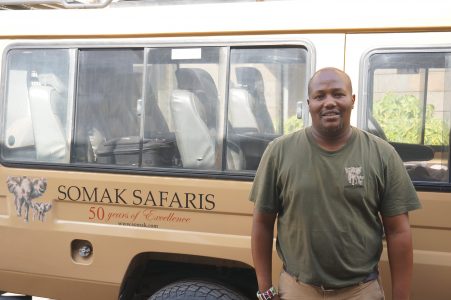 Somak's driver-guides are the best in the business, and one of the reasons our customers come back to us year after year. Beyond the high standard of driving and guiding that is guaranteed by an average of over 15 years of service, our DGs have an incredible range of backgrounds and areas of expertise. From the Kenya Wildlife Service to the British Council to fluency across 8 different languages (all are fluent in English & Swahili), they each bring a unique perspective and skill-set to a safari.
In our series 'Spotted on Safari this week," we are sharing some photos and nuggets of information from Martin Weru, a Somak Driver Guide who has been with us since 2000. He holds a certificate in Tour Guiding and Tourism Operations, and has recently earned the title of Silver-Level Guide. His excellent Spanish, Italian, and Ornithological expertise (Nature Kenya) have made him popular with guests and seen him appointed as Titan Tour manager.
Martin has a keen passion for photography and an eye for detail, which can lead to exceptional game sightings, as well as being always happy to share his wealth of knowledge, having recently completed a course on the biology of amphibians and reptiles at the National Museums of Kenya.
Here are some photos taken by Martin in Amboseli National Park whilst on a Kili Safari this week, he has also supplied some snippets of  information.
With lots of creativity, he has even made this wonderful slideshow for you to all enjoy.
A Muller's Clawed Frog, whose skin produces copious mucous making the amphibian slippery and difficult to hold in your hand. Adults are aggressive predators and they are able to survive high water temperatures.
A male red headed rock agama, also known as the rainbow lizard. They are not venomous, despite legends to the contrary. They are diurnal and they are very territorial.
A courtship display from the female of the red headed agama.
Grey headed kingfisher spotted at Amboseli National Park.
A malachite kingfisher. Interesting to note is that most kingfishers are solitary.
Hop, step & jump for this yellow baboon. That is quite the leap!
Time out for some dust bathing for this plains zebra. Looks like it is having a lot of fun!
If seeing Martin's photos of Amboseli has inspired you to want to go on safari, we have some ready-made itineraries such as our 5-night Kili Safari Itinerary and a 6-night Porini Camps Safari. Alternatively, we can tailor-make the perfect safari to suit you.
We would love to work with you to plan the safari holiday of a lifetime. For more information on how our safari experts can help you, call Somak Holidays today on 020 8423 3000, or visit our website here:
Request a free
call-back now.
Contact
Somak Luxury Travel
Somak House
Harrovian Business Village
Bessborough Road
Harrow On the Hill
HA1 3EX
Tel:
+44 20 8423 3000
Fax: +44 20 8423 7700
Email:
info@somak.com