Spotted on Safari : The Wildebeest migration, known as 'The World Cup of Wildlife.'
In this week's 'Spotted on Safari' we are delighted to share some footage from the start of the annual migration in Kenya, taken by our driver guide Joseph Wangombe, just south of Ashnil Mara Camp, in the Masai Mara.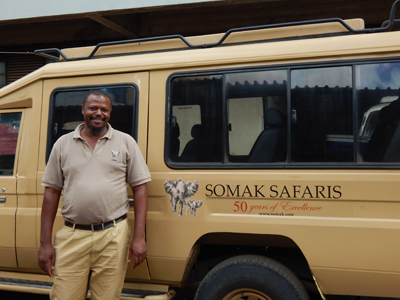 Joseph joined Somak in 2015, after stints with both the African Fund for Endangered Wildlife and as a safari and wildlife Education Officer. His expertise has been rewarded with the Silver Level Guide award. Joseph's other skills include speaking excellent Spanish, Customer Care, and First Aid training. Perhaps most comforting for safari-goers, Joseph also holds a Glen Edmunds certificate for 4WD On & Off Road Driving.
Seeing the migration is a truly wonderful experience and one to definitely add to your bucket list, as it is considered one of the "Seven New Wonders of the World" and also known as 'The World Cup of Wildlife.'
This annual migration is not only noted as a wonder of the world, it is also a great opportunity for people to witness nature at its best. There is nothing like observing the behaviour of predators as they lurk in the bushes whilst the prey scamper for safety from them. This is literally 'survival of the fittest' in the midst of the African bush.
During April to July the wildebeest start moving north towards the Masai Mara in search of greener pastures as well as seeking out the next watering hole. Most gravitate towards the Mara River. More of this migration takes place until around November, so going on a safari is highly recommended during this time. Our safari experts will be able to advise when the best time to go is and where, in order to have the best possible experience. With our experienced driver guides, you are guaranteed to have an unforgettable time.
We hope that seeing this wonderful footage by Joseph has inspired you to want to go on safari, and enjoy seeing these animals yourself, and to help, we have some amazing itineraries available.
We would love to work with you to plan the safari holiday of a lifetime. For more information on how our safari experts can help you, call Somak Holidays today on 020 8423 3000, or visit our website here:
https://www.somak.com/kenya-safari
Request a free
call-back now.
Contact
Somak Luxury Travel
Somak House
Harrovian Business Village
Bessborough Road
Harrow On the Hill
HA1 3EX
Tel:
+44 20 8423 3000
Fax: +44 20 8423 7700
Email:
info@somak.com