Our top picks of places to visit in Rajasthan and the North
Rajasthan is one of India's most romantic states and is lovingly known as the Land of Kings. It has featured high on travellers' wish lists due to its abundance of stunning historical treasures such as its colourful, vibrant majestic forts and lavish palaces, that will take you back to the grandeur of its kingdoms. Each individual kingdom in Rajasthan has its own distinctive style of architecture and arts.
Jaipur – The Pink City 
Known as the "Pink City of India" due to its distinctive pink and saffron coloured buildings, Jaipur is the largest city in the state of Rajasthan and one of India's most stunning cities.
There is so much to see in Jaipur and it has an amazing variety of forts, temples, monuments, gardens, museums, arts and crafts, and various market places to explore.
Highlights to add to your list to see include Amber Fort with its terraces and ramparts reflected in Maota Lake, and a marvellous example of Rajput architecture, the City Palace, Jantar Mantar Observatory, and Birla Mandir.
Udaipur – The Venice of the East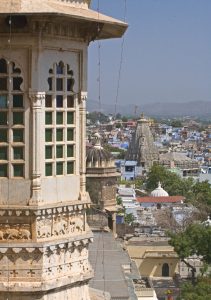 Known as "The Venice of the East," Udaipur is a cool oasis in the dry heart of Rajasthan. There are lots of beautiful attractions to see such as the Lake Palace, City Palace, Jagdish Temple, Lake Pichola, Fateh Sagar Lake and Kumbhalgarh Fort.
Jodhpur – The Blue City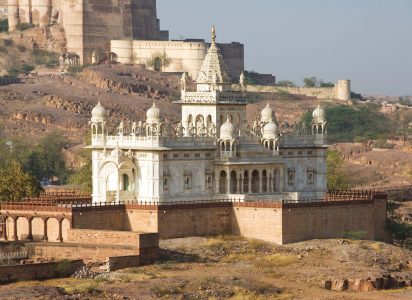 Jodhpur is known as the "Sun City" because of its sunny weather, as well as the "Blue City" because of the blue houses which can be found near the Mehrangarh Fort. This fascinating city is protected by a 10 km long stone wall.
Other attractions to see whilst in Jodhpur include the Umaid Bhavan Palace, the Mandore Gardens, the Jaswant Thada, the Kalyana Lake and Garden, the Ghanta Ghar, Sardar Samand Lake and Masuria Hills.
Ranthambore National Park – Perfect for Tiger spotting 
Ranthambore National Park, found in the Sawai Madhopur district, is well known for its tigers. It has been declared a UNESCO world heritage site due to its vast cultural history encompassing several decades, kings and architectural styles. You can go on a jungle safari here as well as visit the 10th century Ranthambore Palace.
Jaisalmer Fort  – The 'Golden City'
Jaisalmer is known as the "Golden City" because of its beautiful sand dunes, stunning forts, and rich culture and traditions. It is a real juxtaposition of old vs new and there are a great deal of museums and heritage temples to see in Jaisalmer. If  you happen to be visiting between January and February, you can also attend the famous annual Desert Festival.
Other attractions worth seeing include the Sam sand dunes, Gadisagar Lake and Tanot Mata Temple.
Bikaner – A Handicraft lovers haven
Bikaner is perfect for handicraft lovers, and two of the most important features of the city are its Usta and Chadwa art forms using floral and geometric patterns. The various arts and crafts of this place are very unique, especially the intricately carved windowpanes known as jharokhas.
Attractions in Bikaner include Junagarh Fort, Lalgarh Palace, Karni Mata Temple, Laxmi Niwas Palace, Laxmi Nath Temple and the world-famous Bikaner Camel Festival.
Pushkar – Home to the world-famous Camel Fair 
Pushkar is one of the most ancient cities of India and you can find a rare Brahma Temple here. The Pushkar Lake is also a popular Hindu pilgrimage site and is thought to be created by the tears of Lord Shiva, making it very auspicious.
It is an amazing city to witness an array of aspects of rural India in their most original forms, as well as watch camel races, a popular sport here.
Mandawa – Famous for its forts and havelis
Mandawa is a small town located in the heart of the Shekhawati region of Rajasthan, famous for its distinctive type of forts and havelis. It was once an important social and cultural hub in its golden days.
One of the main attractions to see is the Mandawa Fort from which you can have an amazing view of the whole city. There are some lovely paintings depicting Lord Krishna and his shepherds on the architectural walls of the fort.
There are also many havelis to see, and one of the most popular is the Hanuman Prasad Goenka which depicts Lord Shiva riding the bull Nandi, and Indra on an elephant.
Delhi – India's Capital city 
India's capital city is split in to Old Delhi and New Delhi. The 'new' part dates from 1920, and places of interest include the imposing India Gate and the impressive Parliament House, as well as two historical monuments – Humayun's Tomb and Qutub Minar.
Chandni Chowk, which is outside the majestic Red Fort, is a bustling area filled with lots of bazaars and lots of delicious street food to try. Aloo Tikki is a must!
Visits to the memorial site of Mahatma Gandhi and the Bangla Sahib Temple are also recommended whilst in Delhi..
Agra – Home to the world-famous monument of love
Agra is home to the world's most famous monument depicting love, the Taj Mahal.  Agra is unmissable when travelling to Rajasthan and the North.
The stunning Taj Mahal's marble exterior reflects rose and golden tints at sunrise and sunset, and dazzling white during the day. Just an amazing sight to see.
The Agra Fort is also a must visit, where you can see the chambers of the royal residence.
Are you tempted to visit India and experience Rajasthan and the North?
Simply India Holidays by Somak offer 'The Golden Triangle' tour, where you will visit Delhi, Jaipur and Agra; it is the perfect introduction to the wonders of North India.
Alternatively, there is also a 'Classic Rajasthan' 15-night tour which will immerse you in the many fascinating areas and cover many of the key attractions.
If you wish to have a tailor-made itinerary, this can also be arranged. Simply call Simply India Holidays by Somak on 0208 423 3000 or email india@somak.co.uk
Photos are credited to Avalon Licensing Limited.
Request a free
call-back now.
Contact
Somak Luxury Travel
Somak House
Harrovian Business Village
Bessborough Road
Harrow On the Hill
HA1 3EX
Tel:
+44 20 8423 3000
Fax: +44 20 8423 7700
Email:
info@somak.com