Karafuu Resort & Spa – a Zanzibar holiday won't disappoint!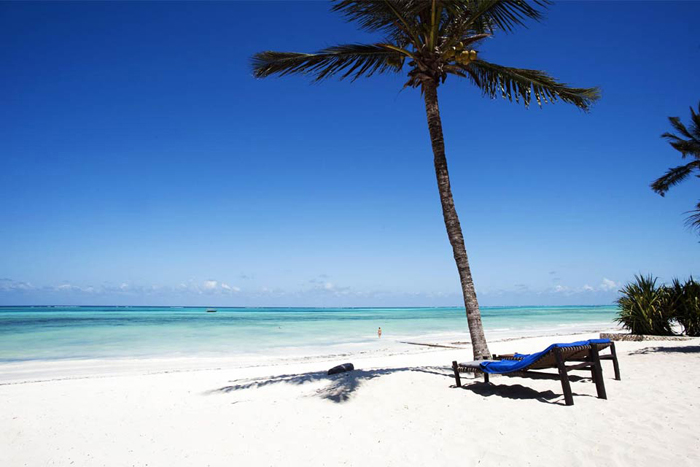 Well, it's a tough job but someone has to do it. That's to say, check out holiday destinations to make sure they're all they're cracked up to be, so you don't spend your hard-earned cash on something that doesn't meet your expectations.
In the blink of an eye I'd return for a Zanzibar holiday
I'm here to tell you that the Karafuu Beach Resort and Spa in Zanzibar, Tanzania will not disappoint on any level. On my return from the most sublime Zanzibar holiday, to be met by freezing temperatures, grey clouds and, joy of joy, traffic jams – I assure you I'd be back on that plane to Zanzibar in the blink of an eye, given half a chance.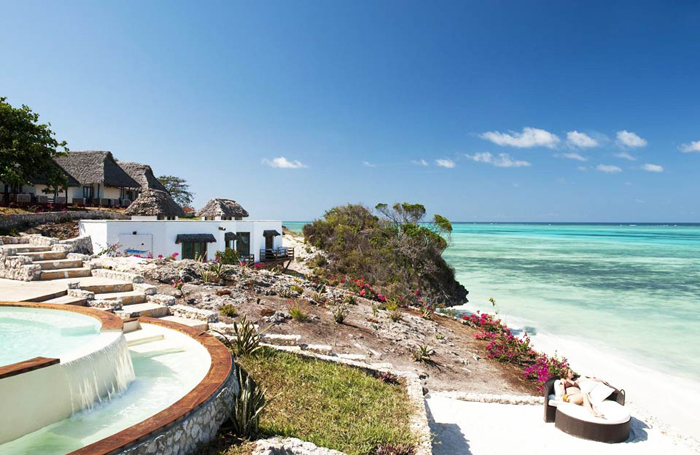 Just to save you reaching for an atlas or consulting Mr. Google, Zanzibar is an island in the Indian Ocean, off the east coast of Africa. Already, I'm sure you'll have a picture in your mind of waving palm trees, crystal-clear turquoise seas and miles of pristine sandy beaches. The Karafuu Beach Resort is all that and more.
It's one of the few resorts in Zanzibar where accessible sea swimming is possible at low tide. Just off shore there's a huge natural bowl in the sea bed which forms a perfect swimming pool. (Thank you Mother Nature!)
If you're one of those people who likes sticking your head under water (which I'm not!) then the open sea is great for snorkelling and diving too, fully supported by a PADI and DAN school to train you.
There are two other swimming pools, one including a kids' pool, if you don't want to venture far away from the restaurants.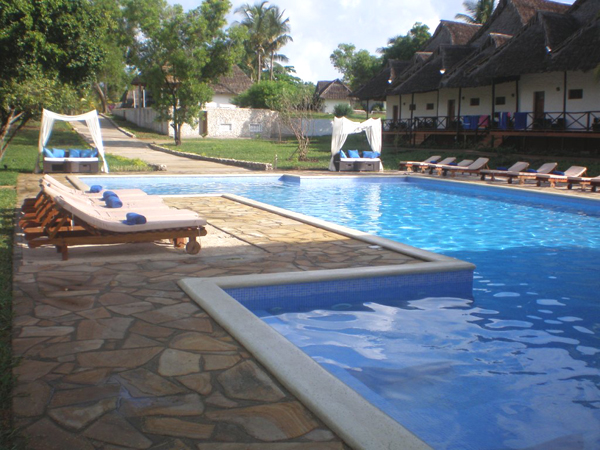 And the restaurants … what a choice there is on offer! The Marikiti is on a sea-view terrace and serves a buffet to end all buffets; the Bondeni has à la carte service too, then there's an Eatalian restaurant and pizzeria.
Best of all, in my humble opinion, are Le Grand Bleu, right on the beach, for its sumptuous seafood. To cap it all, for a once in a lifetime experience, a couple of times a week, the Masai Village, with replica African dwellings, serves a traditional Swahili feast with vibrant entertainment from local dancers.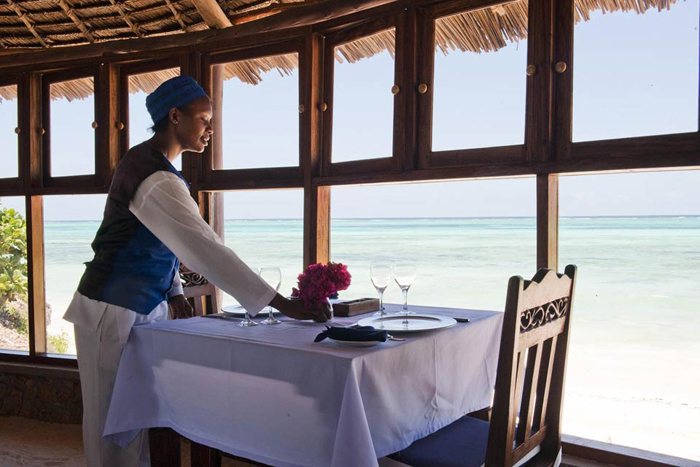 Top tip – some of these places have to be booked 24 hours in advance.
Luckily, there's a gymnasium, tennis courts and football pitch to work off all the excesses, if you so desire. Or  you could, like me, lie down in the splendid Samawati spa. Does a full body massage count as a workout? I think so.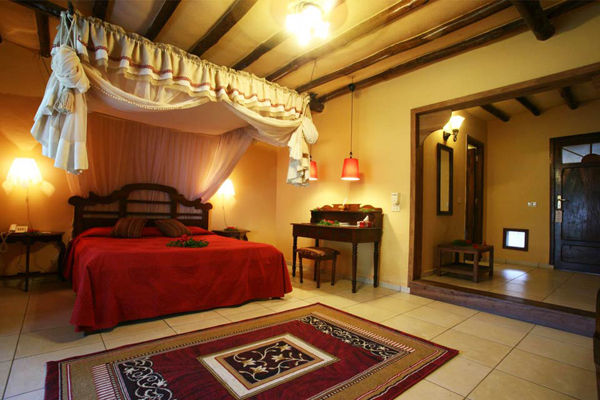 As for accommodation, stunning! My room was spacious, with a palm thatched roof, beautifully decorated, combining contemporary chic with traditional Zanzibari, all mod cons including wi-fi, if the lure of technology is too great for you to resist, even when you're on holiday. I had my own veranda too, and all beds have a mosquito net if required, although those annoying creatures don't much like the cool breeze provided by the air con.
What more can I say? Just go there! You'll have the most wonderful time. I know I did.
Ready to go?
Experience the beauty of Karafuu Beach Resort and Spa for yourself on a memorable Zanzibar holiday.
Speak to our experts: 020 8423 3000
Request a free
call-back now.
Contact
Somak Luxury Travel
Somak House
Harrovian Business Village
Bessborough Road
Harrow On the Hill
HA1 3EX
Tel:
+44 20 8423 3000
Fax: +44 20 8423 7700
Email:
info@somak.com