Gorilla Trekking in Uganda
Our colleagues Amanda and Meeta recently had an incredible adventure in Uganda, which is one of Africa's smallest countries and home to some of its biggest stars, including mountain gorillas, chimpanzees and the thunderous River Nile.
The sight of a shy, seven foot silverback and his children playing in the branches above has to be one of Africa's greatest experiences, and Amanda and Meeta were lucky to experience seeing them up close, as well as chimpanzees and other wildlife at Bwindi National Park, which is located in south west Uganda. 
They told us about their trip and shared some fantastic photos.
Accommodation
They stayed 1 night in Kampala at SkyX Hotel, followed by 1 night in Kibale National Park at Kyaninga Lodge, 1 night in Queen Elizabeth National Park at Kyambura Gorge Lodge and 2 nights in Bwindi National Park at Mahogany Springs Lodge.
First impressions, activities and highlights
They said that Uganda was just amazing – the people, the food and the landscape were all 'wow!'
Whilst in Uganda they managed to do a chimpanzee trek in Kibale, a boat ride in Queen Elizabeth National Park and the main event, the gorilla trek in Bwindi National Park.
Their highlight from the trip was definitely the gorilla trek – they were both blown away!
Wildlife spotting
Aside from the chimpanzees and gorillas, Meeta and Amanda also saw elephants, hippos and buffalos as well as lots of birds whilst in Uganda.
The Gorilla Trek
On the day of the gorilla trek, they started at 8am. They had to meet their group and ranger at the centre, where they spent about an hour discussing the rules of the trek. There is also some entertainment whilst you are waiting, and Meeta and Amanda were treated to a show of ladies dancing.
They then set off at about 9am and trekked for about 2 hours to get to the gorillas, with lots of short breaks along the way.
Once they knew that they were not far from the gorillas their hearts started to race and they forgot that they had been trekking up hill!
When they first saw the gorillas they were in the bush and their reactions were "wow!"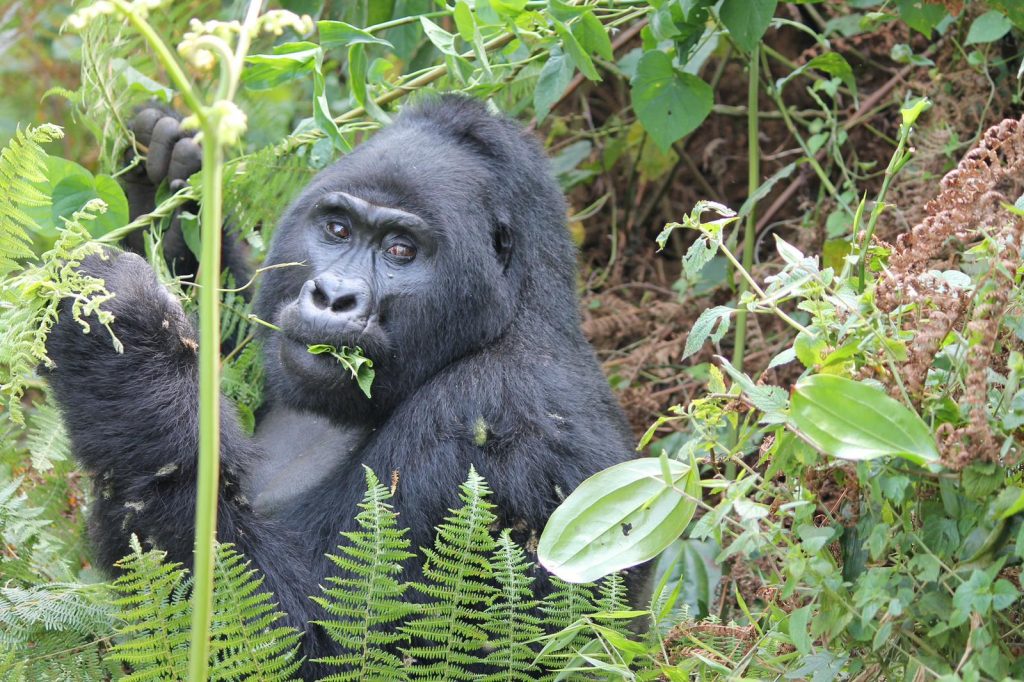 After sometime the gorillas started to come out and walk around them. Amanda and Meeta found this truly amazing.
Once you find the gorillas you are only allowed to stay 1 hour with them. Amanda and Meeta felt like time just flew by so fast and they really wanted to stay longer. They said they could have watched them all day.
Advice for anyone thinking of going Gorilla Trekking
When we asked Meeta and Amanda for their advice for anyone considering going gorilla trekking they said:
"Just do it !!!!!!
Make sure that you hire a porter. They are a must. They carry your bag and also help you on your trek. They are fab and by hiring them you are also giving back to the local people.
Make sure you have the right clothes and footwear and also take garden gloves. The reason for taking garden gloves when trekking are that some of the bushes have spikes."
If you're thinking about going gorilla trekking, we have a fantastic itinerary – Gorillas, Wildlife and Chimps.
We would love to work with you to plan the trip of a lifetime. For more information on how our safari experts can help you, call Somak Holidays today on 020 8423 3000.
Request a free
call-back now.
Contact
Somak Luxury Travel
Somak House
Harrovian Business Village
Bessborough Road
Harrow On the Hill
HA1 3EX
Tel:
+44 20 8423 3000
Fax: +44 20 8423 7700
Email:
info@somak.com