Cape Town and Beyond: Exploring South Africa's Cape Provinces
Samkelisiwe Mwandla and Celeste Naganna, two reservations consultants at Somak Luxury Tours, recently embarked on a journey exploring the Western and Eastern Cape, two of South Africa's most captivating destinations. 
This immersive trip aimed to provide them with firsthand experiences of the extraordinary destinations and activities that Somak Luxury Travel curates for its discerning clientele. Eager to gain insights that would enhance their ability to craft bespoke travel experiences, they set off to explore the region's breathtaking scenery, diverse wildlife, and rich cultural tapestry.
We asked them for their impressions of their trip and what insights it gave them that they would use when helping curate trips for their clients.
A key objective of the trip was for Celeste and Samkelisiwe to personally experience the hotels and destinations they recommend to clients visiting South Africa's Cape region.
Samkelisiwe acknowledged the high standards expected of a luxury travel company, and she was pleasantly surprised by the calibre of accommodations and service they encountered throughout the trip. "The beauty of the places we stayed in and the service we received everywhere we went reinforced for me that we are a luxury travel agency," she remarked.
Cape Town International Airport
From the moment they stepped off the plane in Cape Town, the warm welcome and seamless airport experience set the tone for an exceptional journey. "We received the warmest welcome from the Thompsons meet-and-greet service," Samkelisiwe remarked. "Cape Town International Airport is impeccably clean and offers everything a traveller might need, from convenient charging stations to a wide array of restaurants and lounges for those with extended layovers," she added.
Celeste echoed Samkelisiwe's sentiments, emphasising the efficiency of the luggage collection process. "Collecting our luggage was a breeze," she said. "And upon reaching the arrivals hall, a representative greeted us promptly, holding a board with our names and Somak's logo, demonstrating their genuine dedication to ensuring our comfort and satisfaction," she concluded.
While in Cape Town, they stayed at The President Hotel and The Rockefeller Hotel, both of which they would happily recommend to their clients. "President Hotel is very spacious and caters to families, making it great for parents travelling with kids. There are many great restaurants close enough to walk to, all with great beach views," said Celeste. "The Rockefeller Hotel has a wonderful atmosphere with feel-good vibes, which will appeal to younger clients," she said. "It had the feel of a club when walking in, which was a definite vibe. It's also located in the CBD area, making it easy to explore the city."
Peninsula Tour 
"Our first stop was Maidens Cove, with its amazing white sand beaches and tidal pools. We then headed to Hout Bay for our Seal Island cruise, for which we boarded our ferry en route to Seal Island. It's amazing to see how calm and relaxed the seals on the island were," said Celeste.
Celeste continued, "Then we headed to Signal Hill, where there is such an amazing view of Table Mountain. The highlight for me was Chapman's Peak Drive; it was such a scenic drive, something you really cannot put into words. The half tunnels were simply stunning; seeing how man has preserved nature was really something amazing." They were incredibly fortunate to experience Chapmans Peak, as just days after their visit, the road was forced to close due to rockfalls.
Echoing Celeste's sentiments, Samkelisiwe singled out the Cape Peninsula tour as one of her favourite parts of the trip. "My favourite part was the Cape Peninsula tour, which I especially liked because it gave me a lot of insight into Cape Town," she said. "The Cape Peninsula tour was very long, but there was never a time or moment where I felt bored. The tour teaches you about the history of Cape Town and covers places like Cape of Good Hope, Penguin Island, Twelve Apostles Mountain, and my absolute favourite, Chapmans Peak."
The tour also included Cape Point and Boulders Beach, which held a special place in Celeste's heart.
"Our last stop was Boulders Beach to see the penguins in their element. It was simply amazing to see those cute little guys just minding their own business and sunbathing."
Samkelisiwe said she would now wholeheartedly recommend the Peninsula Tour to her clients, confident that it would provide them with an unparalleled Cape Town experience. "It is the best way to see the most beautiful spots, scenery, and attractions that Cape Town has to offer. As a person who has been to Cape Town many times, this time it was like my first time there. Our guide was very knowledgeable; he took us to the best spots ever, and we got to experience the culture and history behind Cape Town."
Unfortunately, weather conditions prevented them from summiting Table Mountain during their stay. Upon her return, Celeste shared that she had learned on the tour that the cloud covering the mountain's flat top is often referred to as a 'tablecloth,' a fitting description that perfectly captures its unique appearance. 
Oudtshoorn and the Cango Caves
Cape Route 62 is the tourist route in the Western Cape and Eastern Cape that meanders between Cape Town and Oudtshoorn, the Langkloof, and Port Elizabeth, offering a shorter, more scenic alternative to the N2 highway.
Oudtshoorn in the Klein Karroo, was, in its heyday, the ostrich feather capital of the world, and to this day the town is known for its ostrich farms. Celeste said she was fascinated to see that everyone in the town seemed to have ostriches; there were even ostriches on the grounds of La Plume, the hotel where they stayed.
"This was our favourite hotel on the trip," said Celeste. "From the spacious rooms to the views of the ostriches from the balcony area outside your room to their attention to every detail for their guests, La Plume was spot on!" The hotel also offered tours for guests to interact with the ostriches.
The Cango Cave system near Oudtshoorn is one of the world's most extensive and spectacular show caves, boasting a labyrinthine network of tunnels and caverns of towering limestone formations, intricate dripstone sculptures, and vast chambers that dwarf human scale.
Celeste recounted her awe-struck experience at the Cango Caves, confessing that she likely wore an expression of wonder throughout their exploration. "The history of the caves and the information about the caves were simply surprising. Our tour guide Leeanne sang for us in the cave; her voice was simply beautiful, and the caves enhanced her voice, so she didn't even need a microphone. It was really such an amazing experience to see how stunning nature is."
On Safari in the Eastern Cape
Another part of the trip that both ladies thoroughly enjoyed was their stay at two Eastern Cape private game reserves.
"At Kariega Game Reserve we stayed in five-star luxury in one of Settlers Drift's luxury tents and enjoyed an afternoon game drive, and at Pumba Private Game Reserve, we stayed at the amazing five-star Water Lodge, where I was taken on a morning game drive," explained Celeste, adding that the luxury of the tents at Settler's Drift was the ultimate in "glamping!"
During their afternoon game drive, they saw a large herd of elephants, lots of giraffes, zebras, and a cheetah that had only recently been released back into the reserve.
The next day, they spent the day inspecting other lodges and hotels before checking into Pumba's Water Lodge for the night.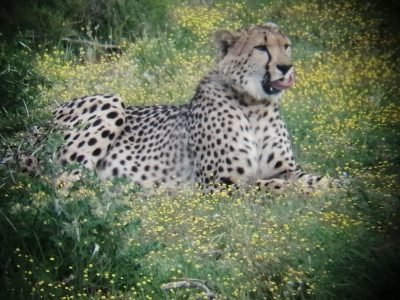 In the morning, Celeste went on another game drive. "Going on an early morning game drive was amazing; we were given hot chocolate, coffee, and rusks, and it felt like the animals were all waking up to a brand-new day, and we were there to see them all," she said.
"We saw rhinos and more elephants; but the best for me was seeing the white lion, which was amazing."
"It was my first time on a safari, and now I can better sell it since I have experienced it and absolutely enjoyed every minute of it," said Samkelisiwe.
Celeste also said it was her first time on safari. "Sitting in an open vehicle with the animals just a stone's throw away is such a thrill. Being part of their element was such an amazing feeling. Watching the animals live and not on television is such a memorable experience. It's something you capture on your phone but cannot really describe," she said. 
Advice 
Asked what advice she would give travellers considering travel to the area, Samkelisiwe advised packing a good camera to take pictures as well as sunscreen, sunglasses, and a hat.
Celeste advised that travellers focus on the special moments of the trip rather than taking photos. "Take your pics, yes, but also take a moment to appreciate nature and how beautiful it is," she said, adding that she wished she could have had her whole family with her on the trip. "They would have been as excited as I was to see such amazing places."
She also advised packing comfortable walking shoes. "To see certain views and areas, you have to climb or walk quite a bit, so comfortable shoes are a must!"
Request a free
call-back now.
Contact
Somak Luxury Travel
Somak House
Harrovian Business Village
Bessborough Road
Harrow On the Hill
HA1 3EX
Tel:
+44 20 8423 3000
Fax: +44 20 8423 7700
Email:
info@somak.com