Climbing Mount Kilimanjaro – up for the challenge?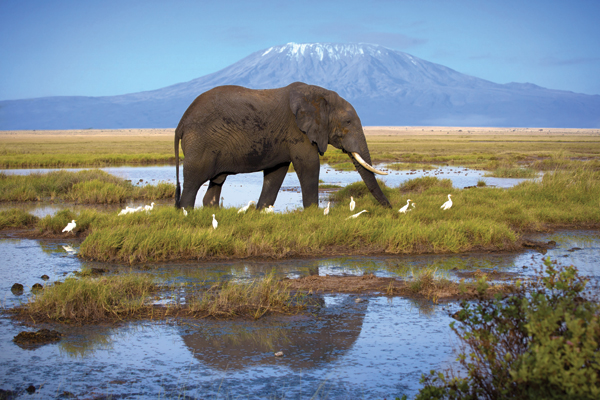 The world is full of challenges! Sometimes just getting to work, looking after the kids, tidying the house, cooking dinner – can leave you exhausted!
So why on earth would anyone want to put their very existence on the line and climb Africa's highest mountain (and, indeed, the highest free-standing mountain in the world)?
People say that anyone who has been walking in the Alps in summer (or in winter for that matter) is well-prepared for Kilimanjaro. Ha! They lie. Nothing can quite prepare you for an adventure that pushes you to your physical and mental limits, but which inspires and exhausts in equal measure.
It's the faces that you notice first
The faces of the people about to embark on the great climb. Excited, fresh-faced, eager and glowing with anticipation.
Then the faces of the people on the way back. Still excited, still glowing (although I am sure that some of the glow is due to wind-burn) but somehow wiser, more aware, more in tune. You cannot climb Kili and remain unchanged.
My band of brothers and sisters numbered 11. One had climbed to Everest base-camp (in the Himalayas). Another had climbed Leith Hill (in Surrey). We came from Australia, Dubai… and Shamley Green. Some of us were fit and some… not so much.
We were bound by two common passions. Adventure and wildlife.
Many of the 50,000 or so people a year who climb Mount Kilimanjaro do it for charity and, in that we were no different. We all support The Born Free Foundation, the wildlife charity I founded with my parents Bill Travers and Virginia McKenna in 1984. In the charity's 30th year, we wanted to do our bit, not only to celebrate three decades of working for wildlife, but to anticipate and support Born Free's efforts for wild animals in need into the years ahead.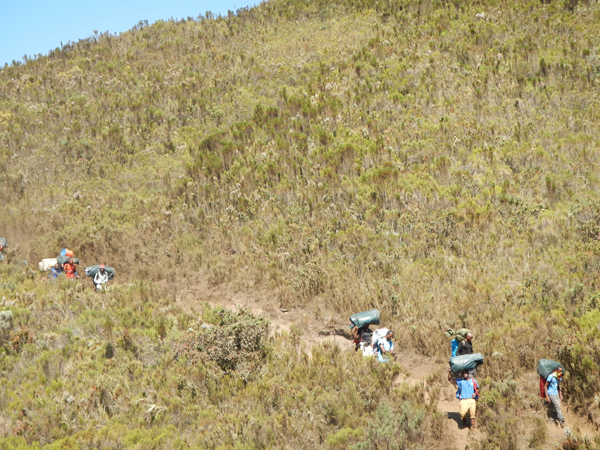 With the help of our friends from Born Free Kenya, we had all shared a magical two days in the Amboseli region in the south of the country, observing an amazing array of wildlife (including elephants and lions) and seeing first-hand the community work of the Foundation.
Conflict between local villagers and lions can be extreme and deadly. Lions that invade local livestock corals at night and kill cattle, sheep or goats (known locally as 'shoats') are subsequently the target for retaliation attacks and are frequently killed. Born Free's 'Predator-Proof Boma' building programme (we've constructed nearly 170 so far) prevents such raids and, since no livestock are killed, makes retaliation redundant.
Seeing such great work 'up close and personal' gave us all the more determination (if we needed any) to make it to the top since the funds raised would help support the building of more Bomas.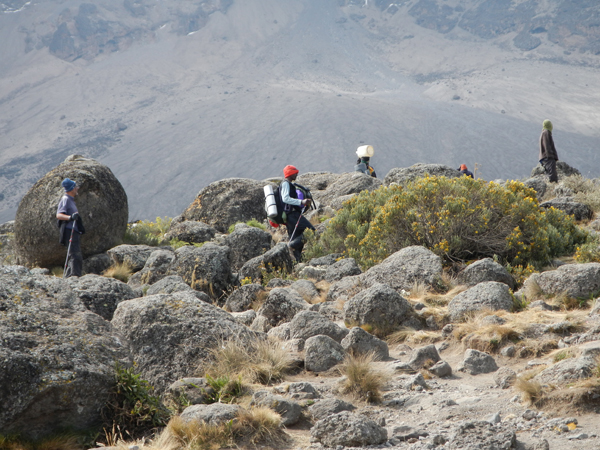 No one quite knows what to expect on Day 1. Up early raring to go and then rather a long wait while all the forms are completed at the registration office. I was itching to get walking – and, when we actually started, it was wonderful. A gentle gradient through the light dappled forest, along a narrow trail (with lunch on the way) towards our first set of overnight huts. It was a chance to get to know our many porters, cooks, assistant guides and, of course, our Head Guide, Alfred, veteran of over 150 ascents.
Their good humour and patience (who are these strange people who have travelled halfway round the world to climb to Uhuru Point for charity?) was unflinching and genuinely touching. They must also have wondered at the superfluity of it all. So many bags and bungees and knives and torches and snacks (as if we were going to starve!) and layers and ice axes and rucksacks and …..  Did we really need all that clobber when they seemed content with a thick jacket, bobble hat and stout boots.
Don't be fooled by the first couple of days. Despite the increasingly elevated altitude, it seems 'easy'. The sun was shining most of the time and the ever-changing landscape takes your breath away (well, so does the altitude!)
Forest gives way to Afro-alpine habitat of rocks and rolling heather festooned with giant lobelia. Sharing lunch with a hoard of fearless mountain mice was another highlight as was the distant spotting of a lamergeyer, the bearded vulture, famous for taking intact bones high into the sky only to drop then onto the rocks below and then swooping down to retrieve the marrow from the broken shards.
The day of ascent is something else. Well for a start it is not a day of ascent but a night-time assault. The long ribbon of lights crawling nearly 4,000 feet up the mountain in the dark seemed to stretch on forever. Our feet did the famous 'sherpa shuffle' – a single step and lock the knee and repeat. The air is thin and freezing and the realisation that this is indeed a serious challenge strikes home.  Some people do not make it. They stop, exhausted, unable to go on. For a time I thought I was going to join their ranks but then, inspired by colleagues, in sight of the ridge and with the sun (at last) coming up it seemed unthinkable to give in. The mountain was there to be conquered and the charity was counting on us!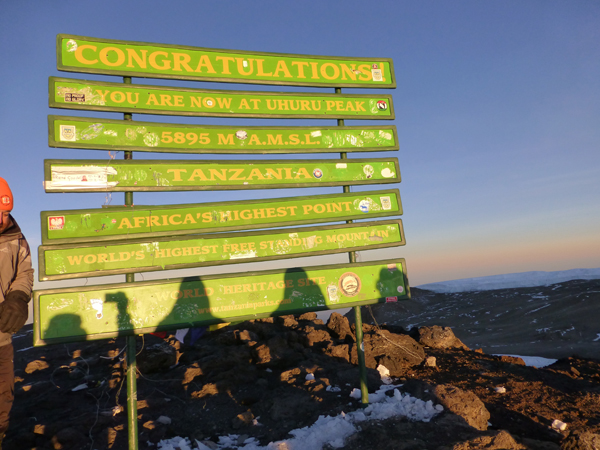 You don't hang about at nearly 20,000 feet! The howling wind and the thought that every painful step you have just taken now has to be retraced, mean you take your photos, hug your friends, look at the clouds down below and then get on with it. For some reason, everyone thinks that going up is the hard part but I found going down just as tough (if not more so). The pressure on your legs as you slip and slide through the scree makes a day of intense skiing seem like a piece of gateau! Kibo Hut, your objective remains elusively remote – will it ever get any closer?
But, of course, 12 or so hours after having begun the night climb, your feet finally stumble into the village of tents and huts and you know, at last, the taste of victory! To celebrate? That last piece of chocolate you've been saving; that nip of brandy from your secret stash; a massively-needed 60-minute power-nap before the descent continues, back past the heather and the streams… and the mice.
Would I do it again. Yes. Without doubt. Maybe with my kids if they are up for it! Would I change anything? Well I would probably go a little more slowly (or 'pole pole' as they say in Swahili), to give myself the chance to take in more of the spectacular scenery and to chat with the guides and porters who make their living helping tens of thousands of people's dreams come true – the dream of climbing to the roof of Africa, helping their chosen cause – and crossing 'The Kili Climb'  off their bucket list!   But I, for one, am glad I have been there and done that!
Ready to go?
Somak Holidays can arrange your Mount Kilimanjaro Climb – click here to discover the different routes to the roof of Africa
Request a free
call-back now.
Contact
Somak Luxury Travel
Somak House
Harrovian Business Village
Bessborough Road
Harrow On the Hill
HA1 3EX
Tel:
+44 20 8423 3000
Fax: +44 20 8423 7700
Email:
info@somak.com