Celebrating our Oceans! Ways in which you can help save our seas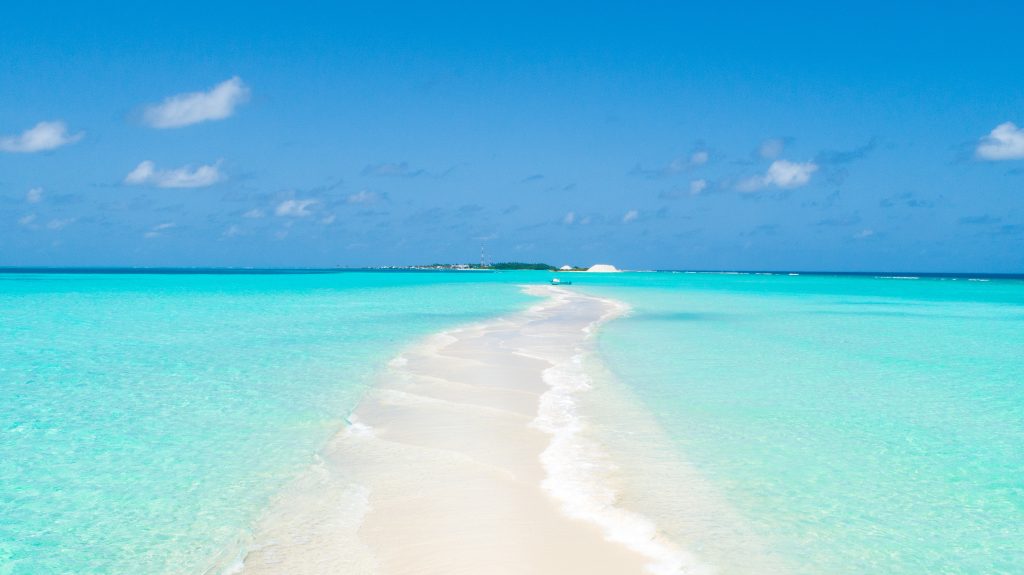 The ocean is vital to life on our planet. It covers more than 70 percent of the surface of planet Earth and contains 97 percent of all our water. 
Sadly, many of us take the ocean granted and are blissfully unaware that it is under threat from pollution, overfishing, and climate change.
We need to work together to create a new balance with the ocean that no longer depletes its bounty but instead restores its vibrancy and brings it new life.
Travel is not only about connections and experiences but also about supporting and preserving, which is why we, at Somak Luxury Travel, pride ourselves on partnering with destinations and properties for our itineraries and packages that take sustainability initiatives seriously, especially as many of our partner destinations and resorts are located in some of the world's most precious landscapes, situated on the edges of UNESCO biospheres or within protected shorelines. 
Here are some ways in which you can help as well as learn about some of our partner destinations and the fantastic initiatives they have in place so that you can choose your next holiday with responsible tourism in mind.
1.Reduce your plastic consumption
Every year, millions of tons of plastic end up in the sea where it wreaks havoc getting caught on and killing marine animals, polluting the food chain, and breaking down into tiny pieces which are ingested by marine life. 
When it comes to fight against plastics, we are pleased to say Kenya, our primary destination, is leading the way. Back in 2017 Kenya banned single-use plastic bags, both from being brought into the country, and being used domestically.
In 2020 more Kenyan legislation was introduced to prohibit single-use plastics in protected areas such as game reserves, forests and marine parks.
The decision was lauded as ground-breaking and has been widely accepted with a whopping 80% compliance with the ban
2. Choose sustainable seafood
When you enjoy seafood make sure you are eating what is caught or farmed in a sustainable way. This means that the seafood was caught or farmed in a way that does not harm the ocean or its ecosystems.
The World Wildlife Foundation (WWF) has partnered with the South African Sustainable Seafood Institute (SASSI) to help teach people what fish are at risk and shouldn't be eaten to ensure sustainable levels of fishing are maintained. They use a variety of tools to keep people in the know including an App, pocket guides, and games to reinforce their message.
3. Support ocean conservation organisations
There are many organisations working to protect the ocean. Support their work by donating money, volunteering time, or simply spreading the word about what they are doing to help the ocean. 
PADI AWARE Foundation is an environmental nonprofit organisation with three registered charities in the United Kingdom, United States, and Australia. Their mission is to drive local action for global ocean conservation.
Sustainable Seas Trust is a Non-Profit Organisation (NPO) that supports and connects communities across Africa through research, education, enterprise development and growing awareness about ocean conservation and plastic pollution.
4. Get involved in local ocean conservation efforts
There are many ways to get involved in local ocean conservation efforts. You can volunteer for a coastal cleanup, join a local chapter of an ocean conservation organisation, or simply educate your community about the importance of the ocean.
Why not check with your beach resort if they offer any beach clean-up initiatives ahead of your visit and see if you can get involved whilst on your holiday.
5. Support sustainable tourism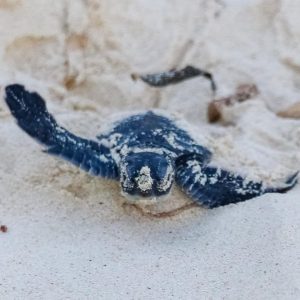 When you travel, choose destinations that are committed to sustainable tourism. This means that the destination is working to protect the environment and minimize its impact on the local community. 
A great example is The Sands at Chale Island,  located on Kenya's South Coast, just 30 minutes from Ukunda. This private beach resort is designed to blend in perfectly with the island's natural environment has a superb environmental and ecological initiative called Thinking Green designed to help protect, educate, and conserve the incredible natural world along Kenya's South Coast as well as practice sustainable energy use.
Consisting of a range of projects and ideas such as Diani Turtle Watch, Marine Education and regular beach clean-ups, Thinking Green helps connect the different areas of the The Sands Kenya Group along with the local community allowing for meaningful change and ideas to be shared.
Chale Island itself is home to two troops of Colobus Monkeys as well as being a natural nesting site for Green Turtles. The waters surrounding the island are inhabited by a diverse range of marine life as well as being known for regular whale shark sightings as well as migrating whales. 
6. Celebrate the ocean!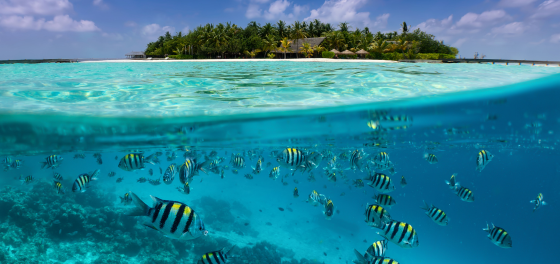 The ocean is a beautiful and important part of our planet. You can celebrate the ocean and all that it provides by going for a swim, taking a boat ride, spending time at the beach or choosing some wonderful ocean excursions to have some close encounters with marine life.
South Africa is very well known for its wildlife safaris. The diversity of South Africa's wildlife does not end on land, though. Whale-watching in Hermanus provides the opportunity to see first-hand what coordinated conservation action can achieve.
 Some staggering statistics published by the Living Planet Index and UN show that the vertebrate animal populations of over 4000 species have declined by 60% since 1970. The protection of whales in South Africa has shown that this trend can be reversed thanks in part to whale tourism. We would highly recommend a visit to this seaside town between June and September to experience the world's best place to view these magnificent ocean mammals from the shore for yourself!
On the stunning Indian Ocean Island of Seychelles, efforts to reverse the effects of coral bleaching, spear-gunning and dynamite fishing (long-banned) have been remarkably successful.
There are some 1,000 species of fish recorded in these waters, along with rays, sharks and turtles and you can see them ethically whilst on your beach holiday either by going snorkelling or PADI diving in the ocean. Alternatively, there are excursions such as a reef safaris or submarines.
Over to the spectacular islands and atolls that make up The Maldives, home to a fascinating array of wildlife and biodiversity such as whales, dolphins and sea turtles, as well as a diverse range of species of fish, corals and fauna.
If you enjoy snorkelling or diving, The Maldives offers an underwater adventure like no other. In this island-hopping paradise, you can freely explore unspoiled lagoons surrounded by colourful coral reefs, where the marine life thrives.
Ready to book your next trip?
If you've been inspired reading about some of the initiatives our destinations are involved in and are keen to visit to experience the marine life and beauty of the ocean, get in touch and we can help you plan the perfect trip.
 All these designations are great for standalone holidays, or pair well at the end of an African Safari holiday, giving you time to unwind before you head home.
Request a free
call-back now.
Contact
Somak Luxury Travel
Somak House
Harrovian Business Village
Bessborough Road
Harrow On the Hill
HA1 3EX
Tel:
+44 20 8423 3000
Fax: +44 20 8423 7700
Email:
info@somak.com