African Safari Diaries: The MacGregor's Kenyan Safari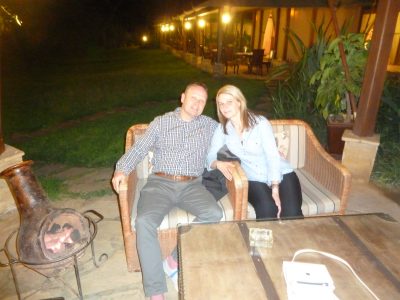 On this week's African Safari Diaries, we are delighted to share our chat with the MacGregors, who visited Kenya, and went on a safari for the first time, earlier this year. It was a special holiday as they were celebrating Mr MacGregor's 50th birthday. Find out what they thought of their first safari experience.
1. What made you choose to go on an African Safari?  Was this your first time visiting Kenya and going on safari?My husband and I are both animal lovers and had talked about going on a safari for some time. As it was my husband's 50th Birthday we decided to celebrate with a safari holiday. This was our first time visiting Kenya and the first time we had gone on a safari.
2. How did you hear about Somak Holidays?
We searched the internet and contacted several companies but could not find what we were looking for as the packages did not suit our needs.
After a visit to our local travel agent they suggested Somak Holidays and gave us a brochure. We liked the tours that were available and found just what we were looking for from a well established company.
3. What did your itinerary involve? How did we put it together for you?
We had researched many game reserves and national parks beforehand. Seeing rhinos and elephants were a must for us and so the Serena explorer was ideal for us. We also wanted to visit the Daphnie Sheldrick elephant orphanage and the giraffe centre, so Somak arranged for us to have an extra night in Nairobi at the end of our safari to allow us to visit these.
4. Where did you stay whilst on your Safari and what was your favourite property?
All the accommodation we stayed at were with Serena Lodges and each one was very different. The first two nights we stayed at Sweetwaters in the private Ol Pejeta conservancy, and within five minutes of arriving a black rhino came to the watering hole looking straight towards us. We knew we had chosen the right safari!
The following two nights we stayed at Lake Elementeita in a deluxe tent, this was the most luxurious and we felt like we were in a hotel room.
The last two nights were spent at the Mara Serena where the accommodation resembled traditional Masai huts. All three had spectacular views, wonderful staff and great food. We could not choose between them and they all offered different experiences which made our safari complete.
5. What were your highlights from your trip?
There are just so many to choose from, as we did so much during our stay.
At Ol Pejeta we were lucky to get up close and spend time with the last two female Northern white rhinos.
The Daphne Sheldrick orphanage was wonderful, especially to see all the baby elephants, and a boat trip on  Lake Naivasha allowed us to watch the hippos in the water and I even enjoyed a kiss from a giraffe at the Giraffe Centre.
As we had our guide to ourselves this allowed us to be more flexible. On one occasion rather than return to the lodge for lunch we took a packed lunch out with us and fitted in a visit to the Masai village before our guide put a blanket out and we had a picnic in the middle of the Masai Mara with nothing but vast open spaces.
6. Would you recommend going on safari?
Definitely, if you are thinking about going then take the plunge and go for it. Words cannot describe how much of an amazing experience this is.
7. What was your experience with Somak Holidays? Would you book with us again? Was there anything that stood out or you would have changed?
We found everything was well organised and could not fault a single thing. It was the personal touches that made it so special, for instance an organised birthday cake brought out by all the staff singing and dancing for my husband.
Our guide Clide, was fantastic, so knowledgeable and experienced. He went out of his way to make sure our first safari was an amazing experience. We found Somak's lounge in Nairobi a real bonus as this allowed us to rest and freshen up on arrival and before our departure home. Staff also cooked us meals whilst we were there. We are already thinking what our next adventure with Somak could be.
8.  Any advice or tips for anyone thinking of going on a Safari?
Take a pair of binoculars and a decent camera but use your eyes. Take time to sit and watch from your vehicle. There is nothing more relaxing than watching a herd of elephants cross your path, a family of giraffes munching on trees or a pride of lions basking in the sun. Don't just focus on the big five there are so many interesting animals to see and you will learn so much about them.
Are you inspired to go on a Safari after reading about the MacGregor's experience?
We would love to work with you to plan the safari holiday of a lifetime. For more information on how our safari experts can help you, call Somak Holidays today on 020 8423 3000, or visit our website here:
https://www.somak.com/kenya-safari
If you have been on a safari with us and are interested in being featured on our blog, email us at: info@somak.com
All Photos are courtesy of Tracey MacGregor.
Request a free
call-back now.
Contact
Somak Luxury Travel
Somak House
Harrovian Business Village
Bessborough Road
Harrow On the Hill
HA1 3EX
Tel:
+44 20 8423 3000
Fax: +44 20 8423 7700
Email:
info@somak.com