African Safari Diaries: The Bailey's Luxury Safari Honeymoon in Kenya
We love it when our clients share their luxury safari experiences with us and we had a chat with Laura Bailey, aka Mrs B, a food and travel blogger, about her honeymoon, which was packed full of adventure, excitement, and once-in-a-lifetime experiences.
Laura writes the blog  'The Travels of Mrs B' and lives in Nottingham. She is currently living out her happily-ever-after with her husband Mr B and their rescue whippet Snoopy. Her blog features all kinds of luxury travel, such as a six-star Mediterranean cruise, UK and European city breaks, dog-friendly hotel stays and much more. From Michelin star dining to sampling local cuisine, food always plays a big part in her travels!
She chose to go on an African safari in Kenya, which she booked with us, and if this isn't on your list of ultimate honeymoon destinations yet, after reading about Laura's experience it certainly will be!
1. What made you choose an African Safari for your honeymoon?
My husband and I are both big animal lovers, and it was an easy decision for us to go on safari for our honeymoon as we have always talked about going. We chose to go on safari first and then relax after it at a beach resort, so to us it was like having two holidays in one!
2.  Was it your first time visiting Africa and going on safari?
Yes it was the first time for both of us.
 3. How did you hear about Somak Holidays?
We looked at a lot of different companies that offered safaris, however, the itineraries that Somak offered were so much better than any of the others that we came across. We wanted to travel around to experience the different game reserves in Kenya, and Somak offered that with an amazing choice of lodges as well as having the same guide, who was also our driver, throughout our stay.
 4.  What did your itinerary involve? How did we put it together for you?
A lot of places we went to tried to push us into just having a few days on safari, but we knew we wanted to immerse ourselves into the experience as much as we could. When we read about the 'Cheetah Safari' with Somak and saw the itinerary we knew that was the one for us. Our safari was for eight days and in that time we stayed in five stunning lodges and camps.
5.  Where did you stay whilst on your Cheetah Safari?
The lodges and camps we stayed in were all so different but all so magical.
Our first night was at Aberdare Country Club. The setting was spectacular and we had a guided walk through the bush which was the perfect start to our safari experience.
Next we had two nights at Ashnil Samburu Camp but the pictures do not do it justice. We stayed in a canvas tent which had a four-poster bed and marble bathroom, which gave us the experience of sleeping in the bush but in luxury. One morning when we opened our tent there was an elephant directly outside and it is moments like that we will remember forever.
We then had one night at Serena Mountain Lodge. The wooden hotel building was fantastic and had so many viewing stations, and after dinner and some drinks we watched elephants playing in the waterhole in the dark.
A one-night stop at Lake Naivasha Sopa Lodge followed, where there were a lot of hippos in the grounds.
Our last stop was two nights at Ashnil Mara Camp and like at our camp at Samburu we were staying in another tented lodge, but this time the balcony overlooked a river. Our game drives in the Masai Mara were amazing and it is where we completed our search for the big five!
6. Which was your favourite property?
So difficult to pick but I would have to say Ashnil Samburu Camp. The magic of sleeping in the canvas tent meant we fell asleep every night listening to the sounds of the bush and wherever we were we had amazing views, whether in our lodge, while having dinner or relaxing with a drink.
When relaxing by the pool for a few hours we were even joined by a family of monkeys!
7. What were your highlights from the trip?
There are so many! Our first big sighting was a large herd of elephants crossing a river. It was breathtaking to watch the adults help the little ones across so they didn't get taken away by the current.
It was amazing to see the lions, one was stalking her prey, one was resting after a chase and we got up-close and personal to a whole pride basking in the sunshine.
After a few days with no sighting, we finally saw the cheetah on the very last day with the bonus of spotting her nursing her cub. The beautiful sunrises and sunsets are amazing to watch too.
 8. Would you recommend going on safari as a honeymoon?
Absolutely, I couldn't recommend it highly enough, because we made memories that will last a lifetime. It was a holiday full of adventure and romance.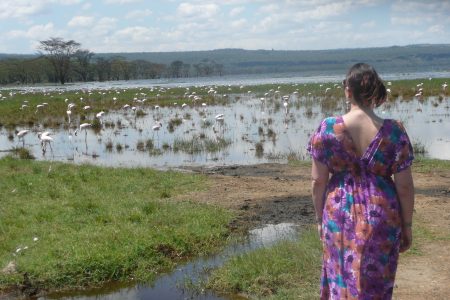 9. What was your experience like with Somak Holidays? Was there anything that particularly stood out or you would have changed?
I wouldn't have changed a thing. Our guide and driver Christopher played a huge part in making our holiday as he told us so much about the wildlife, the culture, the people and the food. We learned so much from him.
 10.  Any advice or tips for anyone thinking of going on a Safari?
Do it! It was the best holiday we have ever been on and we would go on a another safari in a heartbeat!
Are you inspired to go on a Cheetah Safari after reading about Laura's experience?
Find out more about it here:
https://www.somak.com/kenya/suggested-itineraries/cheetah_safari
We would love to work with you to plan the safari holiday of a lifetime. For more information on how our safari experts can help you, call Somak Holidays today on 020 8423 3000.
If you have been on safari with us and are interested in being featured on our blog, email us  info@somak.com
All Photos are courtesy of Laura Bailey. 
SaveSave
SaveSave
Request a free
call-back now.
Contact
Somak Luxury Travel
Somak House
Harrovian Business Village
Bessborough Road
Harrow On the Hill
HA1 3EX
Tel:
+44 20 8423 3000
Fax: +44 20 8423 7700
Email:
info@somak.com