African Safari Diaries: Mike and Sarah's Bucket List Trip to Tanzania and Zanzibar
In this edition of "African Safari Diaries" we speak to Mike Lewis, who visited Tanzania and Zanzibar for the first time with his wife to celebrate her special birthday. It was also a bucket list trip as his wife Sarah loves hippos and wanted to see them in the wild. We hope you enjoy reading about their trip.
1. Was this your first time visiting Tanzania and Zanzibar? What made you decide to visit and what made you decide to book with Somak Holidays?
This was our first ever visit to Africa (my wife and I). It was therefore our 1st trip to Tanzania and Zanzibar. The main reason was to 'celebrate' my wife's BIG birthday (ok 50th). Sarah has had a fascination with hippos since childhood. Through the years she has collectedf 400+ hippos made out of wood, glass, marble, stone and other materials. However, the ultimate bucket list goal was to see hippos in the wild.
We are also passionate about wildlife and keeping animals in the wild. So our research began. As we hadn't undertaken a safari based holiday in the past (we normally fly drive in the USA, having now visited all 50 states) we wanted to book a pre-planned option.
But who to go with?
Well we have been members of the Born Free Foundation since the mid 1990's and we're aware that BFF acknowledge Somak as a responsible tour operator. Somak indeed support Born Free Foundation. It was therefore simply a case of which safari.
Whilst cost is always a factor, we realise that this was a special holiday. Research led us to choose the 6-day Serengeti Safari with Zanzibar as an add on. The main reason was that another bucket list was to visit the Ngorongoro Crater.
2. What was your itinerary?
London, Nairobi, Arusha – then safari to take in Lake Manyara, onto Serengeti, Ngorongoro, back to Arusha and fly onto Zanzibar for beach and rest, then back via Nairobi and Amsterdam to London.
3. Where did you stay whilst on your trip and what was your favourite property?
Serena Arusha formerly Lake Duluti Serena; Lake Manyara Serena Lodge; Serengeti Serena Lodge (the favourite – the wild animals have access to the grounds, we woke up to Cape Buffalos metres away and dik dik everywhere; the panoramic views of the Serengeti and the animals roaming; the very decent quality of the Lodge; the very friendly staff; the drive to and from the Lodge each day; etc, etc. Ngorongoro Serena Lodge (another very good property with views 'to die for') and  finally Ocean Paradise in Zanzibar.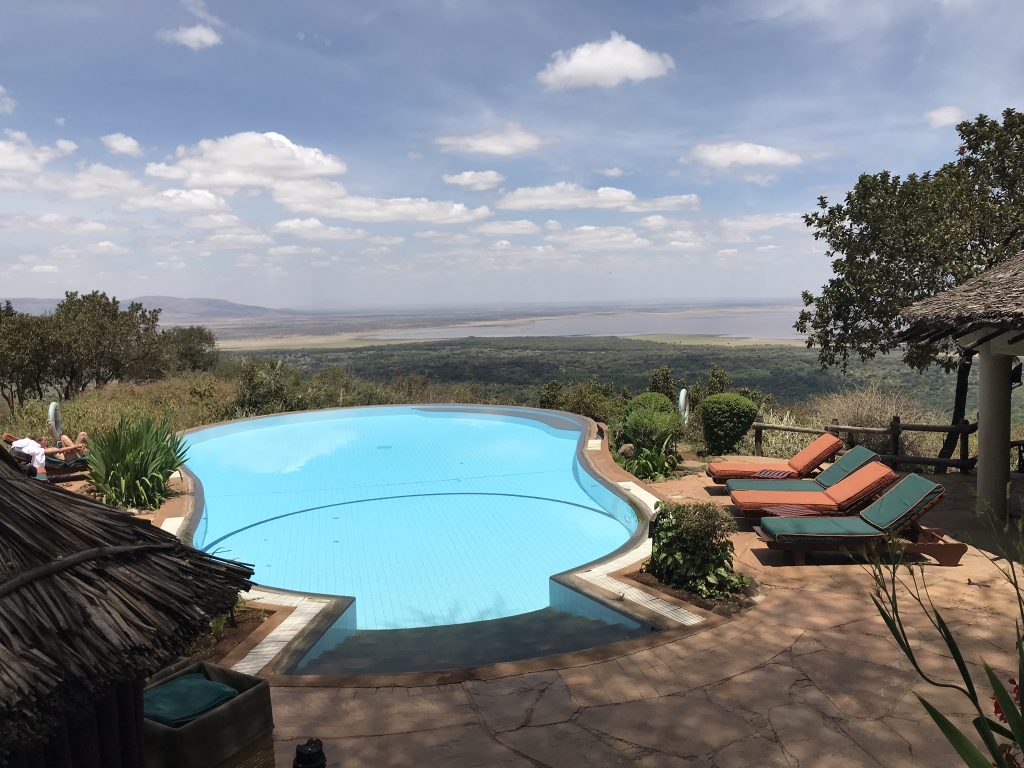 4. What were your highlights from your trip?
All the wild animals, each and every day. We saw nearly all the 'big 5', the black rhino was about a mile and a half away and just about recognisable through a good pair of binoculars, but we didn't give ourselves that one.
Otherwise loads and loads of wildlife, the lions, giraffes, crocodiles, buffalo, my favourite now the warthog, loads of elephants, hyena, and all the gazelles and wildebeest, not to mention the variety of birds. And of course we saw 100's of wild hippos in the pools and the rivers.
We absolutely fell in love also with the Tanzanian people. Not just those in the tourist business but the many Masai people we encountered and others. Another highlight was the honour of being invited into a Masai hut and to lie on their cow hide bed. Never again will I complain about a small bed! Memories of seeing the smiling children, the hard working women carrying everything on their heads (not the men!), the goats and cattle being moved along the roads to new pastures… The scenery is so mind blowing.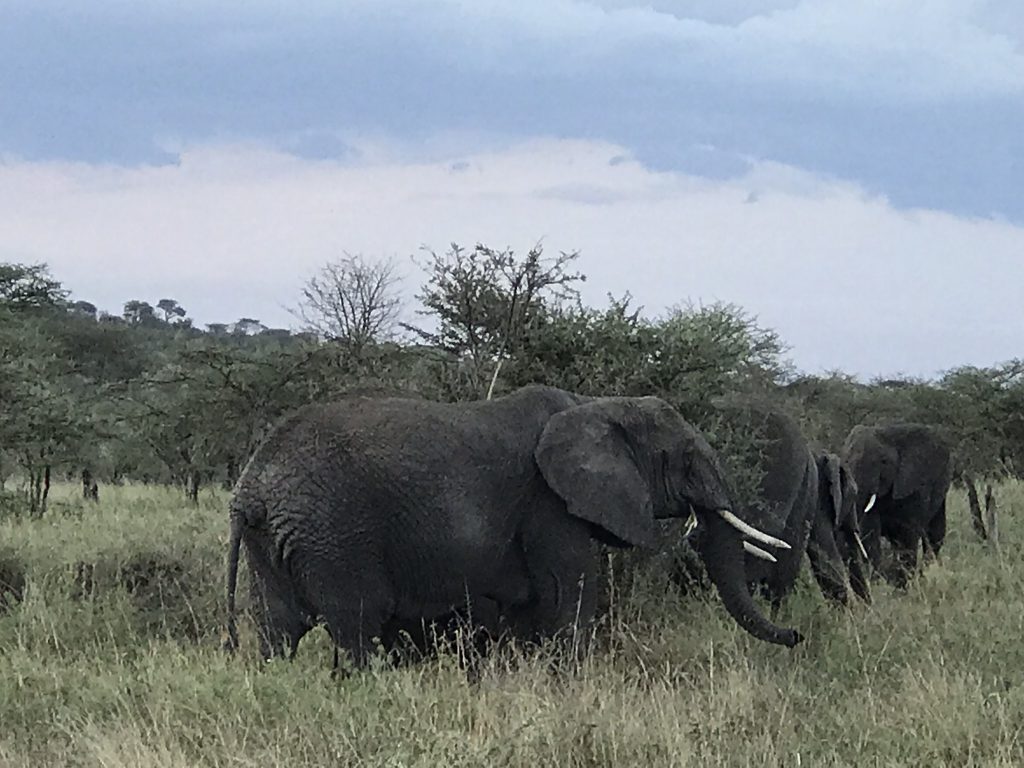 5. Do you have any advice or tips for anyone thinking of going on a Safari?
Do it or at least try to do it at least once in your lifetime.
Don't let any 'disability' get in your way (if you are worried about mobility problems).
Whilst you can't choose your guide/driver, a really good one makes the holiday (thank you 'Nickson').
Make sure you are clear on your visa and vaccination requirements.
Contact your GP in good time.
Contact the appropriate consulate in good time.
Check not only with your travel company but also directly with your flight companies re baggage allowance. E.g. if you are taking internal flights on safari on a 'Light' aircraft the restriction is 15kg but if you are travelling by road you can take an allowance up to the amount quoted by the airline.
In the main, most people do follow the dress code whilst on safari (cover up, mosquito protection, neutral colours but not black or dark blue).
Roads are mainly uneven in the parks, but the vehicles can take it. Who wants tarmac in the National parks anyway?
Don't forget the live experience. Whilst important to capture on camera etc, don't fuss around so long that you miss what matters there and then.
A small tip (money) goes a long way. Sadly income levels even for those in tourism and hospitality are low. If the service is good (your bags are carried everywhere for you) then give a $ or two.
The local people, even the Masai children are starting to recognise the vehicles and will sometimes run alongside whilst still tending to their animals. I even got asked for $5 to take a photograph of them. They did have a $1.
There is a great deal of produce on offer, by the roadside, in Masai villages, in the lodges, even in new malls being built. The prices vary significantly, surprisingly more expensive in the Masai village we were taken to. It's very difficult to know what is 'original' and locally made. The same items crop up everywhere. Ultimately, it's where you want the profit to go to. We gave the Masai village a donation in addition to buying some gifts. Please do haggle. There is hardly ever any 'hard sell'.
Plan how many days you want to be on safari. To some it could be tiring although in the main you are in the vehicle. Whilst we did a 6-day Safari, on reflection we would wanted to have done more. We had 3 days of beach and rest but if we had the choice again (let's hope we do) we would do even more safari days.
It's your choice. We recommend Somak.
If after reading Mike and Sarah's experience you would like to book a similar itinerary, we would love to work with you to plan the safari holiday of a lifetime. For more information on how our safari experts can help you, call Somak Holidays today on 020 8423 3000.
Please note all photos featured are credited to Mike Lewis.
Request a free
call-back now.
Contact
Somak Luxury Travel
Somak House
Harrovian Business Village
Bessborough Road
Harrow On the Hill
HA1 3EX
Tel:
+44 20 8423 3000
Fax: +44 20 8423 7700
Email:
info@somak.com