African Safari Diaries: A Tailor Made Kenyan Safari
On this edition of African Safari Diaries we hear all about Isabel and her family's Kenyan Safari. Kenya is a very special destination to Isabel and her husband as its where they spent their honeymoon, and they have returned to East Africa multiple times since!
They had a bespoke safari curated to suit their perfect holiday. We hope you enjoy reading all about it.
1.  What has drawn you back to East Africa for safaris (and Kenya on this occasion)? 
We have done previous safaris in Kenya, Tanzania, Namibia, Zimbabwe, Botswana and South Africa, but we are constantly drawn back to Kenya for the prolific wildlife and the friendliness of everyone we meet. We have been visiting Kenya since our honeymoon over 30 years ago, and our children  (now adults) love it too. This was our 8th visit to Kenya.
2.  How did you hear about Somak Luxury Travel and what made you choose us over other tour operators?
We chose Somak because they could tailor make the exact holiday we wanted with no compromises on length of stay or choice of accommodation. They also came recommended to us by others. The prices were very competitive which was important for our daughter, who was on a fixed budget.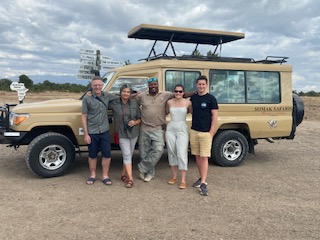 3.  Where did you stay whilst on your trip and what was your favourite property?
We stayed at The Aberdares Country Club, The Ark, Serena Sweetwaters Camp, lake Elementeita Serena Camp, Mara Serena Lodge and Lake Naivasha Sopa Lodge. Our favourite property is Sweetwaters Tented Camp. Wonderful tents overlooking a busy water hole. Fabulous game drives in Ol Pejeta Conservancy with abundant wildlife, and superb service from all the Serena staff.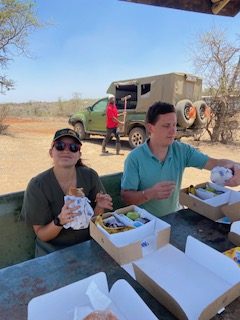 4.  What were your highlights from your trip?
Every day seemed to bring a new highlight to the trip. Large prides of lions, huge flocks of flamingoes and pelicans, tiny lion cubs, a bush baby peering at us through a thatched roof, an aardvark strolling in the dark, a giraffe blocking the dirt road for 20 minutes. Eating a sandwich whilst fending off baboons at a picnic site.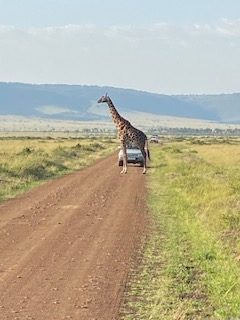 5.  Any advice or tips for anyone thinking of going on a similar trip or a safari?
Take a good pair of binoculars. Try and spend as long as possible in each location. An overnight stay simply isn't enough and driving distances are long. We would have happily spent a week at both Ol Pejeta and the Masai Mara. Remember to look at all the wildlife – the birds and butterflies are superb, the landscapes stunning. Don't go simply to tick off the big 5. There is so much more to see.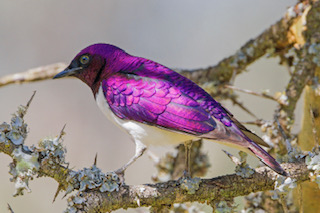 But the one thing that made our trip truly exceptional was our Somak guide Martin Weru. A guide like Martin makes your trip into an unforgettable experience – he is simply the best!
A snapshot of their bespoke itinerary:
2 Nights Aberdares: 1 Night Aberdare Country Club and 1 Night Ark Lodge  
4 Nights Sweet waters Serena Camp
1 Nights Lake Elementeita Serena Camp
4 Nights Mara Serena Safari Lodge
3 Nights Lake Naivasha Sopa Resort
Full Board
Game Drive Lake Nakuru Lodge
All Transfers Included
All Park fees, game drives
AMREF Flying Doctors
 For each booking Somak will donate £20 per person to the Mara Rianda Charitable Trust
Return International Flights Kenya Airways from London Heathrow.
Includes Airport tax and fuel surcharges. Regional airport supplement applies.
Price From £4199pp
Our Ref 58645
If you would like to book a similar trip get in touch and our experienced sales consultants would be delighted to craft it for you.
All photos credited to Isabel Standen.
Request a free
call-back now.
Contact
Somak Luxury Travel
Somak House
Harrovian Business Village
Bessborough Road
Harrow On the Hill
HA1 3EX
Tel:
+44 20 8423 3000
Fax: +44 20 8423 7700
Email:
info@somak.com