10 Most Romantic African Safari Lodges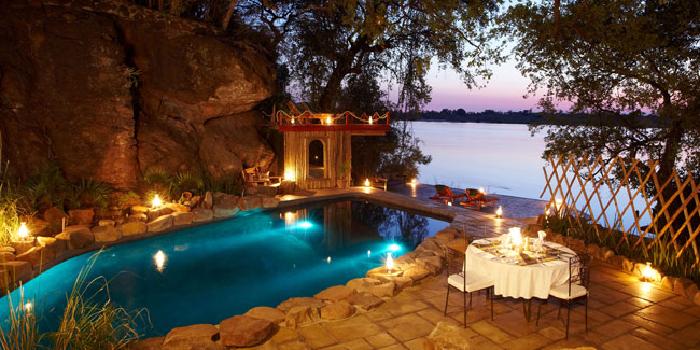 1.  Tongabezi Lodge, Zambia
Looking for some inspiration re where to go on honeymoon? Why not choose an African safari for something different. Here are our picks of the most unique and exceptional safari lodges which will offer an amazing and memorable romantic experience.
A romantic lodge on the banks of the Zambezi River, up stream from Victoria Falls, is an idyllic place to spend your honeymoon. You can stay on their exclusive private island, Sindabezi, and take a trip down the Zambezi River, taking in all the glorious sights of this amazing place.
Find out more here.
2. The Giraffe Manor, Kenya
For something truly unique why not stay at the Giraffe Manor in Nairobi, Kenya, in the company of the resident Rothschild Giraffes, who will most certainly join you for breakfast!
Find out more here.
3. Ulusaba Private Game Reserve, South Africa
Sir Richard Branson's award-winning luxury game reserve, situated within the Sabi Sands, offers superb game viewing. Voted number 3 in  the 'Top Resorts in Africa' by Conde Nast Traveler readers (US edition), Ulusaba is a stunning safari lodge to stay in while on honeymoon. It means  "place of little fear" because the koppie where Rock Lodge sits provided the ancient Shangaan warriors with the perfect lookout point.
Find out more here.
4. Mahali Mzuri, Kenya
Mahali Mzuri is situated in the private Olare Motorogi Conservancy in the wider Masai Mara ecosystem, so you will have an intimate safari experience here in the most outstanding surroundings and super exclusive 12-tented luxury safari camp, in an enviable location in the African Bush. It even has an amazing pool with a view!
Find out more here.
5. Mowani Mountain Camp, Namibia
Namibia is making headlines lately as the rumoured destination where Prince Harry and Megan have chosen to go on their honeymoon. The Mowani Mountain Camp, is located in the stunning landscapes of Damaraland. The  the camp has inherited its name from the Swahili for 'Window on Heaven,' which is so fitting as it is surrounded by outstanding natural beauty – the most idyllic place to spend your honeymoon.
Find out more here.
6. Four Seasons Safari Lodge – Tanzania
Not only does the Four Seasons Safari Lodge have an incredible free-form infinity pool, it overlooks a watering hole amongst the Serengeti plains, where you can watch the wildlife and marvel at the most amazing surroundings. Combine all this with the warm hospitality that is synonymous with the Four Seasons brand.
Find out more here.
7. Eagle Tented Lodge & Spa – Namibia 
The Eagle Tented Lodge provides breathtaking views over the surrounding mountains and valleys, and is built from natural rock and thatched roofs. If you are drawn to Namibia and its rustic beauty, this is a wonderful lodge to spend your honeymoon, and they have an incredible spa too.
Find out more here.
8. Chobe Chilwero – Botswana
Chobe Chilwero sits above the River Chobe and is an incredibly luxurious lodge with the exclusivity of having only 15 guest cottages, ensuring an amazing, intimate experience.
Find out more here.
9. Kapama Karula, South Africa
Kapama Karula means 'place of peace,'  and is located in the Kruger National Park. It is a luxurious lodge with suites that have heated pools for year-round swimming; it is a great place to spend your honeymoon if South Africa is on your radar.
Find out more here.
10. Azura Selous, Tanzania
Azura Selous is a heavenly romantic spot in which to relax and watch hippos play in the nearby Great Ruaha River, while relaxing on your honeymoon. Its location, in one of the largest game reserves in Africa, makes it perfect to spot lots of wildlife.
Find out more here.
Inspired to visit one of these stunning destinations for your honeymoon?
Call us on 020 8423 3000 or complete an enquiry form to receive a quotation from our booking experts.
You can also find out more on our website: https://www.somak.com
Request a free
call-back now.
Contact
Somak Luxury Travel
Somak House
Harrovian Business Village
Bessborough Road
Harrow On the Hill
HA1 3EX
Tel:
+44 20 8423 3000
Fax: +44 20 8423 7700
Email:
info@somak.com